Donald Trump has broken the United States Constitution, a New York district court ruled Wednesday, putting the US president in legal hot water.
So what was it? His constant interference in the Russia investigation that is looking into collusion with foreign powers? Nope. The money he continues to take from foreign governments through his business interests? Nope. The firing of government officials to serve his personal agenda? Nope.
It was, of course, Twitter - Trump's medium of choice.
District judge Naomi Buchwald ruled [PDF] that Trump's blocking of critics from his Twitter account @realDonaldTrump is illegal since it is "properly characterized as a designated public forum" given his public position.
As such, he is breaking the First Amendment on free speech by preventing people from being able to see his posts, responses to his posts, or contact him over the service - if they are logged in to Twitter. The court decided that the president's own First Amendment rights did not override the plaintiffs.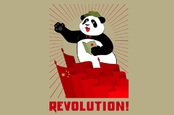 Did I say Chinese jobs? I meant American jobs says new Trump Tweet
READ MORE
Trump and his social media team blocked numerous users from his personal Twitter account after they posted critical comments of him using his handle. On behalf of seven of them, The Knight Institute filed a lawsuit last year claiming that Trump was distorting debate by preventing followers of his account from expressing their views.
The institute was unsurprisingly happy with the result: "The First Amendment prohibits government officials from suppressing speech on the basis of viewpoint," said attorney Katie Fallow. "The court's application of that principle here should guide all of the public officials who are communicating with their constituents through social media."
Precedent
While it may seem like a trivial matter, the judge goes to some lengths to explain her reasoning.
"This case requires us to consider whether a public official may, consistent with the First Amendment, 'block' a person from his Twitter account in response to the political views that person has expressed, and whether the analysis differs because that public official is the President of the United States. The answer to both questions is no," she begins her 75-page judgment.
And while there is an unnerving number of references to legal battles that Richard Nixon fought while president, there is a much larger precedent in play: whether any public official can block citizens on social media.
There are numerous examples of politicians blocking people that disagree with them or criticize their policies on Twitter and Facebook – and, in fact, the Knight Institute is also backing a second case in the Fourth Circuit Appeals Court where a Virginia official blocked one of his constituents from his Facebook page.
While some argue that social media is more of a personal nature, the reality is that they are increasingly the main way in which public officials interact and communicate with the public. Today's judgment would put social media squarely in the category of public forum, which then comes with numerous Supreme Court decisions and doctrines over what is allowable.
In reaching her conclusion, the judge dismissed a range of counterarguments put forward by Trump's legal team, including that the account was set up in 2009 – long before he became president – by pointing out that if a military base was decommissioned and turned into a public park, or a private airport turned into a public one, then the current usage would be the relevant one to consider. You couldn't arrest someone for trespass in a public park because it used to be a restricted military base.
Mixing business with... pleasure?
The judge also pointed out that while the president has an official account (@POTUS), Trump uses his personal Twitter account all the time to discuss public business.
What about the fact that you can still see all of Trump's tweets and responses if you simply log out of your account?
"Because a Twitter user lacks control over the comment thread beyond the control exercised over first-order replies through blocking, the comment threads - as distinguished from the content of tweets sent by @realDonaldTrump, the @realDonaldTrump timeline, and the interactive space associated with each tweet -- do not meet the threshold criterion for being a forum," the judge argues.
In other words, because Trump and his social media team are not in a position to control subsequent discussion of any tweets in the comment threads, then by blocking citizens from being a part of that public discussion they are limited their free speech rights.
In a lengthy discussion of what does and does not constitute a public forum, the basic argument in favor of finding Trump's account a public forum – and by extension all public official's social media presences – is that allowing for free and open debate does not in any way impinge or prevent the person for continuing to communicate.
In other words, Trump can continue to tweet unhindered, regardless of whatever happens in comment threads to previous tweets.
It's probably safe to say that many people – including Congressional Republicans - wish it was otherwise. But literally nothing seems to be able to stop the president of the United States from tweeting whatever enters his mind from one day to the next. And the price of that appears to be not being able to stop people from responding.
"In sum, we conclude that the interactive space associated with each of the President's tweets is not government speech and is properly analyzed under the Supreme Court's forum precedents," the judge states.
No doubt today's order will be appealed. So far there has been no reference to the decision on the @realDonaldTrump account itself, although we imagine that if there is one it will carefully reasoned, diplomatic and respectful of the independence of the judiciary. ®
Similar topics