Google listens to New Zealand just long enough to ignore it
'We can't delete court cases, and you can't make us'
---
New Zealand courts are asking Google to take down content associated with current criminal proceedings, to the usual and resounding "No" from the Chocolate Factory.
In a row that's been bubbling along for months, lawyers and judges in New Zealand have repeatedly complained that Google retains stories and images subject to court orders.
The court orders have left New Zealand news outlets unable to report on the trial currently before the courts, instead referring back to a 2017 case – also suppressed by court orders until its conclusion – as examples of the gap between their situation and Google's.
As the New Zealand Herald reported, the court hopes to ensure a fair retrial with the order, by preventing jurors from viewing evidence already ruled inadmissable.
The newspapers resisted the order, partly because they knew even if they complied, international reports would still be available – but they lost, and they had to comply.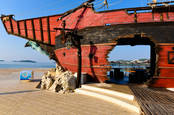 Google agrees to break pirates' domination over music searches
READ MORE
However, when the same order was delivered to Google New Zealand, Google told the court it could not comply, and anyhow, the Kiwi company has nothing to do with Google's search operations, which reside in California and aren't covered by New Zealand law.
As New Zealand tech commentator Paul Brislen told Vulture South, someone might be in contempt of court, but if they're out of reach, there isn't much a court can do about it.
"It's a fairly pivotal moment [in defining] the split between the international provider and the local operation," he said.
Brislen said it sounds like "sophistry or madness" to deny a connection between Google New Zealand and Google in the US: "You're dealing with Google or you're not."
He said such cases as this and Facebook's GDPR-driven relocation of European users from Irish-domiciled contracts to California showed the giants are more interested in "working around the law rather than with the law – or ignoring the law entirely".
As well as denying New Zealand's jurisdiction in the matter, Google says its database is simply too big for it to remove details of the stories covered by the court order.
A Google engineer said in an affidavit "Google New Zealand Limited has no ability to comply with the interim orders," the NZ Herald reported. ®