This article is more than 1 year old
Forward-slash flash: OG upstart Pure Storage shows off fresh models
//X and pals on show in San Fran
Nine-year-old flash firm Pure Storage flung out a slew of products to ward off legacy and newbie rivals at its Accelerate event in San Francisco, including – as you'd expect – faster, denser and cheaper arrays.
It announced new FlashArrays and Purity OS software, a pay-for-use scheme, an entry-level AIRI converged system and a boost to its Cisco converged infrastructure system, FlashStack, as well.
The only thing preventing a full house is there being no specific news on its petabyte-scale offering FlashBlade.
FlashArray //X generation
Currently Pure has four FlashArray //M models – the 10, 20, 50 and 70, which use SATA-connected flash modules – plus the newer tech //X70 with its NVMe-connected DirectFlash module.
| FlashArray | Raw Capacity | Max Effective Capacity | Chassis | Flash |
| --- | --- | --- | --- | --- |
| //M10 | 5 - 10TB | 30TB | 3U | SATA flash modules |
| //M20 | 5 - 80TB | 250TB | 3U - 5U | SATA flash modules |
| //M50 | 20 - 176TB | 500TB | 3U - 7U | SATA flash modules |
| //M70 | 42 - 512TB | 1,500TB | 5U - 7U | SATA flash modules |
| //X70 | 22 - 366TB | 1,050TB | 3U | NVMe DirectFlash |
The //Ms now give way to the //X range with 10, 20, 50 and slightly revamped //70 models plus a top-end //X90. This has a 6U enclosure with the others using a 3U chassis.
| FlashArray | Max Raw Capacity | Max Effective Capacity | Chassis | Flash |
| --- | --- | --- | --- | --- |
| //X10 | 20TB | 55TB | 3U | SATA flash - NVMe DirectFlash-ready |
| //X20 | 87TB | 275TB | 3U | SATA flash - NVMe DirectFlash-ready |
| //X50 | 185TB | 650TB | 3U | NVMe DirectFlash |
| //X70 | 366TB | 1,300TB | 3U | NVMe DirectFlash |
| //X90 | 878TB | 3,000TB | 6U | NVMe DirectFlash |
There is a DirectFlash shelf, which connects to the //X base chassis with NVMe-oF over 50 Gbit/s RoCE Ethernet. It has up to 512TB raw capacity (1.9PB effective).
Pure said the Flash Array //X system is ready to support storage-class memory (SCM) and QLC flash.
Existing models can upgrade to the //X range, with the Evergreen Storage scheme enabling non-disruptive upgrades, no planned downtime, and no data migrations.
Pure told us the //X90 is up to twice as fast as the //M70 product – thanks to Intel's Skylake grunt – and its latency is as low as 250µs. The //M70 was rated at up to 300,000 32K IOPS, less than 1ms average latency, and 9GB/sec bandwidth.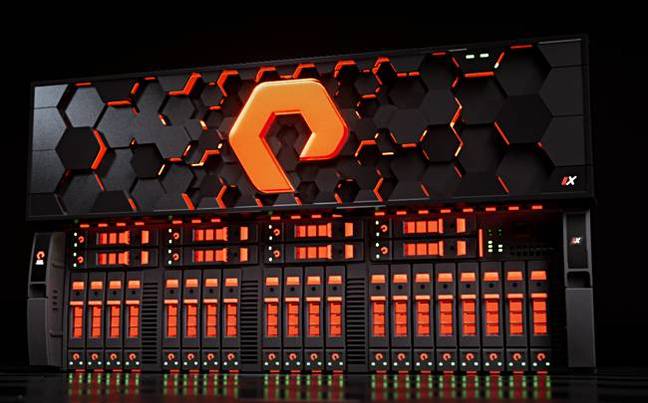 Pure's flagship //X90. All the //X arrays have this colourful upper bezel.
Pure claimed the //X90 is the lowest cost array per GB. It's pushing a message that NVMe drive use is for all its FlashArrays and not just the high-end products, noting that competitors Dell and NetApp are only using NVMe drives in their high-end products - PowerMax and A800.
It said all the //X product controllers are NVMe over Fabrics-ready but has not announced specific support for NVMe-oF interface products, such as Brocade's FC-NVMe devices. NetApp's latest A800 all-flash array does support these products and so can operate in an end-to-end NVMe server-to-array environment already.
This means the <250µs latency is at the array level, and not yet an end-to-end latency.
But, worry ye not: NVMe-oF kit and support should arrive in the second half of this year.
Purity OE v5.1
A new Purity Operating Environment, v5.1, is available as a non-disruptive upgrade for all //M and //X customers. It features up to 20 per cent better data reduction, especially for compression-centric workloads.
ES2
Pure has expanded its Evergreen Storage program, the one with included controller upgrades, to add a Right-Size-Guarantee extension. Customers can lengthen the Right-Size Guarantee effective capacity benefits with a six-month coverage extension as part of any capacity expansion.
It is adding a pay-for-use ES2 (Evergreen Storage Service) or on-premises storage-as-a-service business model. Pure said ES2 provides its storage at up to 50 per cent less than public cloud and is available for terms as short as 12 months with a base commitment as low as 100 effective TBs. Customers can have an up-and-running system through ES2 in days.
Enterprises and service providers can deploy ES2 on-premises or in colocation facilities such as Equinix, which enables direct connection to AWS, Microsoft Azure and Google Cloud Platform.
AIRI Mini
The AIRI (AI-Ready Infrastructure) system launched in March has been joined by an AIRI mini. Big AIRI is a converged infrastructure-type system with a Pure FlashBlade all-flash array, four Nvidia DGX-1 GPU-accelerator boxes and a pair of 100GbitE Arista switches Arista.
Mini AIRI is a mini AI converged infrastructure system, that can scale up to a big one, with 119TB of raw flash storage (7 x 17TB blades) and two Nvidia DGX-1 GPU accelerator chassis' hooked across two 100GbitE switches.
AIRI originally used Arista switches but now Cisco Nexus 9000 100GbitE switches are available for it and the AIRI Mini.
The AIRI Mini, more affordable than the million bucks-plus big AIRI, delivers 2PFLOPS whereas big AIRI is a 4PFLOP system. More info available here.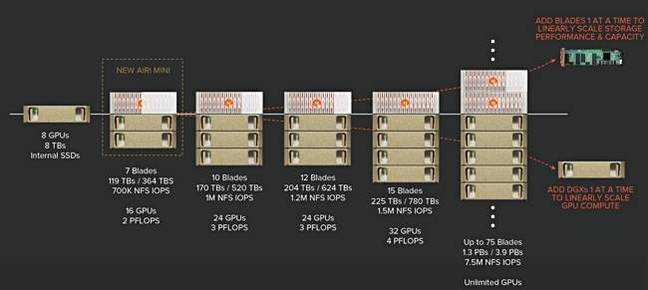 AIRI Mini scaling. Click to enlarge