This article is more than 1 year old
Oracle nemesis MariaDB tries to lure enterprise folk with TX 3.0
Release adds Big Red compatibility, migration service
Open-source database biz MariaDB has upped the ante in its war against Oracle, promising enterprise customers better compatibility with – and easier migration from – Big Red.
The Finnish firm's latest offering, MariaDB TX 3.0, released for GA today, extends the number of use cases to include temporal processing and advanced data protection for sensitive and personally identifiable information, as well as Oracle compatibility.
The broad aim is to tap into customers' grumbles over legacy vendor lock-in, while convincing the bigger customers that they can move to an open-source database without compromising performance.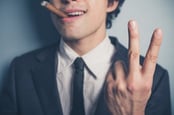 Fork YOU! Sure, take the code. Then what?
READ MORE
MariaDB has effectively battled Oracle since its inception: MariaDB was forked from the open-source RDBMS management system MySQL in 2009 by MySQL creator Monty Widenius. When Oracle acquired Sun – and so the rights to MySQL – people fearful of Big Red's influence on MySQL began to look at MariaDB.
The firm, which has pulled in some $98.2m in funding, has long been seen as an alternative to MySQL, but has been less able to persuade larger customers to shift from Oracle entirely.
However, it has risen up the DB-Engines charts in recent years, now ranked 14th overall, having been 18th last year and 25th three years ago - possibly an indication of growing acceptance that open source can be used by enterprise customers.
"There is a broader effort of perception," Shane Johnson, senior director of product marketing at MariaDB told The Register.
"We accept that in the past enterprise open-source databases available probably weren't mature enough, and didn't have enough features to satisfy [enterprises'] requirements… This release is intended to specifically address the features they need it to have."
Johnson added that it could also serve as the impetus to persuade customers that wanted to move to open-source – existing Red Hat customers, for instance – but needed a few more features.
He said that, although there was already a "broad spectrum" of customers migrating off Big Red, it had been easier for those that weren't so wedded to Oracle's database, or using a lot of its very specific features.
This is where the latest release aims to turn the tables, by offering those customers an easier route out; MariaDB claims that TX 3.0 is the first enterprise open-source database solution that delivers Oracle compatibility.
This includes Oracle-compatible sequences and a stored procedure language compliant with Oracle PL/SQL, with the idea being to demonstrate that customers can reuse existing code and skills when migrating applications or deploying new ones.
Citing customer, the Development Bank of Singapore, Johnson explained that such compatibility was the sort of make-or-break factor that convinces customers to migrate.
"From the top down, they wanted to embrace open source - but in order for that to be practical, we had to be able to support Oracle PL/SQL - there was no way they use MariaDB without that support," he said.
As part of their migration - which has seen more than 50 per cent of mission-critical applications shifted over 12 months - the bank has, among various other work, migrated over 200,000 lines of PL/SQL, Johnson said. "If they were going to rewrite all those procedures, it would have taken them years to do… that compatibility makes life easier for them."
Johnson also pointed to MariaDB's Red Rover Migration Practice, which aims to help customers move from Oracle, by offering guidance and support from the open-source firm's team.
This team will be made up of DBAs, consultants and developers, who will have experience in both Oracle and MariaDB's features, and will plan what the migration will look like well before any physical code migration.
MariaDB TX 3.0 is also promising built-in system versioned tables to allow developers to build temporal features into applications without having to manually create columns, tables and triggers in order to maintain row history.
And, given 2018 is the year data protection obsessed the world, the latest release is also offering users the ability to anonymise or pseudonymise data through complete data obfuscation or partial or complete data-masking to different levels of users. ®