This article is more than 1 year old
Servers crashed and burned. So, Qualcomm's back to Ctrl-C, Ctrl-V'ing Arm cores into phones
Pocket fondleslabs using Snapdragon 710s arriving now
Following its Centriq server processor implosion, Qualcomm has dusted itself off, and today presented to the world another smartphone processor: the Snapdragon 710.
And as for previous Snapdragons, Qualy has pretty much xeroxed off-the-shelf Arm Cortex CPU cores. Qualcomm shifted engineers from the Snapdragon team onto its Centriq data-center-grade Arm-compatible processor project, leaving behind a skeleton crew to keep the mobile line ticking over using tweaked Arm cores as opposed to its own fully customized ground-up designs.
Then, wounded by Broadcom's attempted takeover and struggling to make its NXP acquisition fly, Qualcomm was forced this month to cut $1bn in costs – laying off more than 1,200 workers, and putting Centriq on the chopping block.
Server severed severely
The future of the data-center-friendly processor is uncertain. Bloomberg reported bosses are considering axing or selling off the technology. Qualy's spokespeople refuse to comment on the chip. Anand Chandrasekher, the semiconductor industry veteran who oversaw its development, has left Qualcomm. The US giant's website still touts the Centriq family.
Terry Lohman, Qualy's principal engineer, sounds optimistic, telling Chandrasekher on LinkedIn: "You put together a world-class team and delivered industry-leading products that customers can't wait to buy. I still believe that Centriq deserves and can take a share of the data center market."
A source at a hyper-scale cloud supplier evaluating and testing the Centriq for production deployment told us Qualcomm's "server plans are dead," adding: "I do think that the Arm server space is pretty much finished now. OpenPower is more likely to make it," as an alternative to Intel's expensive Xeons.
Indeed, we've heard repeatedly now that companies mulling deploying Centriq systems, as an alternative to Intel and AMD x86 products, are considering IBM's Power, just like Google has been.
So, quite possibly no more Centriq, and meanwhile another Snapdragon with compute cores licensed from Arm rather than Qualcomm's own homegrown designs.
Fine, OK. That's a little uncharitable. Qualcomm touts plenty of Snapdragons with off-the-shelf Arm Cortex brains. And there's more to the system-on-chip than just CPUs, just like there's more to the 845 than Cortex-A75s.
Under the hood
The 710's CPU cluster is dubbed the Kryo 360, and it features two 2.2GHz A75s, that do the beefy workloads, and six smaller 1.7GHz Cortex-A55 cores that do most of the work. There is also some Qualcomm-crafted glue logic and interconnects in there to keep them together and working with non-CPU cores that accelerate particular tasks.
"The Kryo 360 is based on A75s (two performance cores) and A55s (six efficiency cores) but as it is a semi-custom design, the Kryo 360 is combined with additional low-power technologies from Qualcomm and customized with quality-of-service optimizations for prioritization of memory bandwidth in heterogeneous use cases," a spokesperson for the chip design house told us.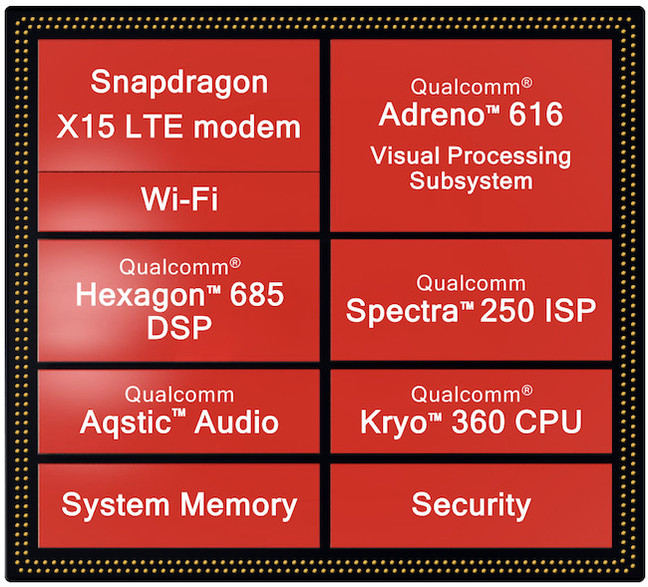 Inside the Snapdragon 710 ... Source: Qualcomm
Next to the CPUs are an Adreno 616 GPU, a Hexagon 685 DSP, a Spectra 250 image processor, a Snapdragon X15 4G/LTE radio modem, and various other bits and pieces like radio and audio electronics. The DSP and GPU can be used to accelerate machine-learning software in hardware via the Snapdragon Neural Processing toolkit, Android's NNAPI, and the Hexagon NN offloading library, as well as the usual frameworks, such as TensorFlow and Caffe2.
This AI stuff is getting used more and more by apps for touching up and correcting colors and lighting in photos, detecting faces in images, classifying food snapped in pics, and so on.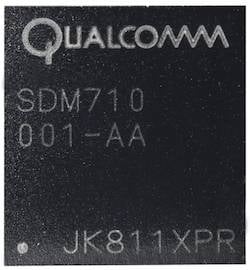 The Snapdragon 710
The X15 modem can shift as much as 800Mbps over a cellular connection, depending on the carrier and phone mast, and supports 4x4 MIMO antenna configurations as well as 2x2 802.11ac Wi-Fi. The Spectra can record 4K UltraHD video from a device's camera, depending on the sensor, and stabilize images and reduce noise on the fly in hardware. It supports up to 32Mp cams. The system-on-chip can also work on 10-bit-per-RGB-color images, or pictures with one billion possible colors, and playback video up to 4K HDR in resolution, depending on the attached screen.
The 10nm 710 is the first in the new 700 series of Snapdragon system-on-chips. The 800 series is aimed at top-end smartphones and netbooks, the 600 series caters for mid-range mobes, fondleslabs and embedded markets like cars, and thus the 710 fits somewhere in between.
It should be powering devices coming out this quarter, we're told. ®