Trio indicted after police SWAT prank call leads to cops killing bloke
Three men charged over 2017 hoax hostage situation that had a tragic end
Three men were this week indicted for their alleged roles in a fatal police "swatting" of a home in Kansas, USA.
Tyler Barriss, Casey Viner, and Shane Gaskill will all face charges after a district court grand jury ruled (PDF) to indict them on multiple counts related to the December 28, 2017 death of Andrew Finch – who was shot and killed outside his home by cops. The officers had been fooled into believing Finch was armed and dangerous. He was not.
According to the indictment, the whole episode kicked off the day before Finch's death, when 18-year-old Viner, of Ohio, and 19-year-old Gaskill, of Kansas, had an argument following an online game of Call of Duty World War II. The spat continued with Viner threatening to "swat" Gaskill – that is to say, Viner threatened to call an armed police SWAT team on Gaskill, it is claimed.
Gaskill dared Viner to go through with it, and gave Viner what he said was his home address, but was in fact a house his family was renting to someone else utterly unrelated to the squabble, court documents state.
Viner, it is alleged, then contacted Barriss, 25, of California, and instructed him to "swat" Gaskill, who further taunted both Viner and Barriss and encouraged them to follow through with the threat.
Barriss phoned police in Wichita, Kansas, claiming to be a man who had just shot his father and was holding his mother and brother hostage at the address Gaskill, via Viner, had provided, it is claimed. Gun cops would soon surround the residence, and fatally shoot Finch as he stepped outside.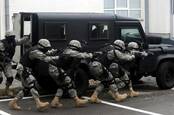 Teen charged with 'cyberstalking' in bomb hoax case
READ MORE
Transcripts from the indictment show Gaskill continued to taunt Viner and Barriss after learning of the SWAT call at his old residence. It was only after finding out that someone had been killed that all three would begin to panic, according to court documents.
"Need to delete everything," Gasklill would tell Barriss via a direct message, "this is a murder case now."
"I literally said you're gonna be swatted," Viner would tell another friend. "Not thinking at all, so I'm going to prison."
Barriss now finds himself indicted on charges of false information and hoaxes, cyberstalking, threatening to kill another or damage property by fire, interstate threats, seven counts of wire fraud, and conspiracy. That's twelve counts in all.
Viner, meanwhile, was indicted on seven counts of wire fraud, one count of conspiracy, one count of obstruction of justice, and one count of conspiracy to obstruct justice. Gaskill was indicted for three counts of obstruction of justice, one count of conspiracy to obstruct justice, and one count of wire fraud.
The three are next due to appear in court on June 13. ®