Uber jams Arizona robo-car project into reverse gear after deadly smash
Layoffs coming as taxi-app shuts up shop
Uber has confirmed that it's shutting down its self-driving car operation in Arizona – without waiting for the conclusion of the official investigation into the death of a pedestrian in the US state in March.
The taxi tech upstart employs about 500 people in Arizona working on self-driving cars and trucks. On Wednesday, staff got an email from their employer announcing it was wrapping up operations. Uber will still continue to run its standard lift-hailing service, but with meat sacks doing the driving.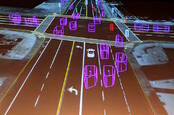 So when can you get in the first self-driving car? GM says 2019. Mobileye says 2021. Waymo says 2018 – yes, this year
READ MORE
"We're committed to self-driving technology, and we look forward to returning to public roads in the near future," an Uber spokesperson told The Register. "In the meantime, we remain focused on our top-to-bottom safety review, having brought on former National Transportation Safety Board Chair Christopher Hart to advise us on our overall safety culture."
The state authorities are still investigating the fatal crash in Tempe, Arizona that saw a pedestrian killed in the early hours of the morning when the sensor-laden car and its driver failed to spot her as she crossed the road. The crash is still being investigated but there have been suggestions that either safety system were turned off or suffering from a blind spot.
The taxi app maker had made Arizona a focus in its quest to build a self-driving car that would make its business model work without burning venture capitalist cash. The firm had started self-driving operations in California but ran afoul of the authorities when it was discovered the biz had been playing fast and loose with the rules.
Uber, and its trucking subsidiary Otto, were under the impression that they didn't need permits to operate in California because the self-driving cars had drivers behind the wheel, but the Golden State's government disagreed. So Uber decamped and moved to Arizona.
Now Uber is moving on again. The company has operations and a research center in Pittsburg, where things are reportedly going well, and will also apparently be coming back to California for further testing. ®