Households hoping to one day access 100 Mbps fixed wireless services on the National Broadband Network got a hard let-down last night, when CEO Bill Morrow said the rollout would not proceed.
Delivering 100 Mbps over fixed connections has caused nbn™ and its retailers trouble, to the extent that in January, the company stated that three quarters of FTTN premises would never see such speeds.
As many as 600,000 customers had hopes of getting that speed over fixed wireless connections, but speaking to a Senate Environment and Communications Committee hearing yesterday evening (May 24), Fifield said "we killed it".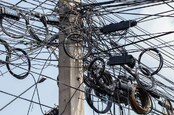 nbn™ isn't fixing HFC, it's 'optimising' it
READ MORE
Why? Because nbn™ would need to spend "billions and billions" to consistently achieve those speeds (El Reg doesn't know what changed between January and May this year).
In particular, Morrow said, 100 Mbps speeds could not be consistently maintained at "peak times", and – stop us if you've heard this one – "there's not mass-market demand" for services at that speed.
Tasmanians hoping to get a fibre-to-the-curb (FTTC) connection got similar disappointment, when Communications Minister Mitch Fifield explained that the island state's rollout was complete – so whatever copper technology is already in place there isn't slated for an upgrade to FTTC.
Not that Labor's Kristina Keneally found it a simple matter to get a clear statement from Fifield. Having asked "how many premises in Tasmania are getting fibre-to-the-curb?", she received the following answers:
"Well, essentially, the Tasmanian rollout is complete, Senator … fibre-to-the-curb is a technology that came to development and fruition after all of Tasmania was concluded."
"Senator, fibre-to-the-curb was something that came into development and being after Tasmania was essentially concluded as an NBN rollout project."
"The simple answer is, there aren't any, for the reasons I've explained."
A solution is in sight for one of the NBN's long-running difficulties, that of medical alarms.
Morrow said "we have commenced a trial to assist users of the unmonitored medicals alarm", and added that nbn™ has been working with device vendors, and a trial group of alarm users.
A rollout is only months away, Morrow told the committee, and "we're very close to being able to announce what the details will be". ®
Similar topics
Broader topics