In its effort to prevent election meddling in America, Facebook has ended up meddling in an election in America.
On Thursday, the social ad giant changed its rules for distributing political and issue ads through its platform, to increase transparency and accountability, the company said.
For two Republicans challenging incumbents in Mississippi, the revised political advertising requirements have thrown their voter outreach strategy into disarray.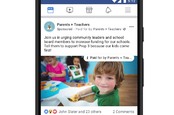 New Facebook political ad rules: Now you must prove your ID before undermining democracy
READ MORE
In an email to The Register, E. Brian Rose explained that he's the sole challenger in the Republican Primary for US House of Representatives in Mississippi's 4th Congressional District.
He announced his campaign in November 2016, a week after the incumbent, Representative Steven Palazzo, was re-elected. Since then, he said, he has been focused on engaging with voters primarily through social media, specifically Facebook ads.
"With just twelve days to the election, we were set to launch our final push, which consisted of hundreds of Facebook ads targeting specific demographics within the district," Rose said. "This campaign was abruptly halted today when Facebook began denying the ads."
With the implementation of its revised political and issue ad policies, Facebook told Rose his campaign Page could no longer run Facebook ads until he went through the verification process.
He did so and received a message saying that an authorization code would be sent to his campaign headquarters in 12 to 14 days.
"This is disastrous because the election is twelve days from today," said Rose in reference to the June 5, 2018 Republican primary in Mississippi. "I am the only challenger to the incumbent Steven Palazzo and polls are showing we are at a dead heat, so you can imagine how this hit has taken its toll."
Who do you think you are?
In a phone interview with The Register, Rose said his campaign relied on social media because it could not afford costly radio and TV ads. "And Facebook is better for engaging with voters," he said.
Rose said his campaign had planned to run hundreds of geographically targeted ads in his district but now cannot.
Part of the problem, said Rose, is that his name as approved by Mississippi elections officials, "E. Brian Rose," doesn't exactly match his name as printed on his identification.
He said he received an email suggesting that he change the name on his Facebook Page to match the name on his identification documents, so Facebook's automated verification system would detect a match. "But I still have to wait for an authorization code," he said.
This discrepancy recalls issues Facebook confronted years ago when it began enforcing its real name policy and had to deal with the fact that the names people use don't always align with what's printed on official identification documents. The company in 2015 amended its policy after years of complaints, but Rose's experience suggests the system is still inflexible.
Rose expressed frustration that Facebook had sold its advertising platform to politicians, only to change the rules of the game without adequate recourse. He said he'd tried to reach Facebook by phone, but there's no phone support.
"They not only led us to believe, they took our money and they cut our legs off in the final days in the election," said Rose. "It's ironic that this [verification] feature was created to keep people from messing with federal elections but that's what this feature is doing."
Mississippi burning
Another Mississippi political challenger describes a similar experience. Richard Boyanton is running for US Senate against Republican incumbent Roger Wicker and awaits the decision of the voters in the state's June 5, 2018 primary.
Reached by phone, Boyanton said his campaign had also been stymied by Facebook's political ad policy revision.
"We had our ads cancelled," he said. "They said they don't meet the criteria."
Boyanton said he had managed to run a few ads that don't have political pictures as personal messages and those went through. But for the time being, he said he's moving over to an email campaign to get the word out.
For Boyanton, being unable to run Facebook ads at this point in time is particularly challenging. "Ninety per cent of my money has gone to Facebook and other social media," he said. "I'm not happy that as we go into the last days of election, we've had to work out a whole new strategy."
Like Rose, Boyanton doesn't have the campaign war chest to match the incumbent or to focus on radio and TV ads. So social media ads looks like a necessity.
Facebook contends politicians should not have been taken by surprise. According to company spokesperson, Facebook sent out notifications on April 23 announcing open enrollment to begin the political ad authorization process. The company followed up with emails in early May to admins associated with Pages deemed to be political and had discussions about the pending changes with political online ad firms, the spokesperson said.
Rose said his campaign didn't receive a notification. Boyanton recalled receiving a notice about a week ago but said he had been too focused on the campaign to pay much attention to it.
Asked how the process could be different, Boyanton said, "If you were going to change something, you should make sure it's after an election." ®