This article is more than 1 year old
FBI to World+Dog: Please, try turning it off and turning it back on
Feds trying to catalogue VPNFilter infections
The FBI has reminded the world it wants us to reboot our routers to try and help it identify VPNFilter-affected routers.
It first asked for reboots last Wednesday, May 23, in the Department of Justice VPNFilter media release, but on Friday added a stand-alone public service announcement emphasising its "IT Crowd" strategy.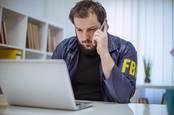 FBI agents take aim at VPNFilter botnet, point finger at Russia, yell 'national security threat'
READ MORE
Last week, Cisco Talos researchers announced the malware had infected around 500,000 home and small office routers and NAS devices. The company listed routers from Linksys, MikroTik, Netgear, and TP-Link, and QNAP storage systems, as targets of VPNFilter.
Talos noted that the malware was trying to target machines in the Ukraine, and the FBI attributed the attacks to the group known as "Sofacy" or "Fancy Bear".
On Thursday, the FBI revealed it had seized a domain associated with the campaign, giving it the chance to drop malware traffic into a sinkhole.
The FBI said it would gather the IP addresses of infected devices, and pass those to the Shadowserver Foundation to disseminate among ISPs and non-US CERTs.
As we noted last Thursday, a reboot only removes part of the infection: the infected device will still try to contact command and control servers.
As at May 25, the date of the public service announcement, the FBI stills said the infection vector was unknown.
Vendor responses to VPNFilter so far include:
As we noted in last week's security roundup, SecureList has analysed VPNFilter's C&C mechanism. ®