This article is more than 1 year old
Cloud is a six-horse race, and three of those have been lapped
New Gartner Supernatural Square has AWS and Azure on top, IBM and Alibaba lagging and Oracle on an offensive
Analyst firm Gartner's 2018 Magic Quadrant for infrastructure as a Service (IaaS) has again found that Amazon Web Services and Microsoft Azure are the most mature clouds, but has omitted more than half of the vendors it covered last year on grounds that customers now demand more than just rented servers and storage.
"Customers now have high expectations from their cloud IaaS providers. They demand market-leading technical capabilities — depth and breadth of features, along with high availability, performance and security," wrote Gartner's mages. "They expect not only 'hardware' infrastructure features, but also management features, developer services and cloud software infrastructure services, including fully integrated PaaS capabilities."
Given those expectations, Gartner was happy to drop eight clouds from this year's Quadrant, farewelling Virtustream, CenturyLink, Joyent, Rackspace, Interoute, Fujitsu, Skytap and NTT.
Here's where the remainder landed on the Paranormal Polygon.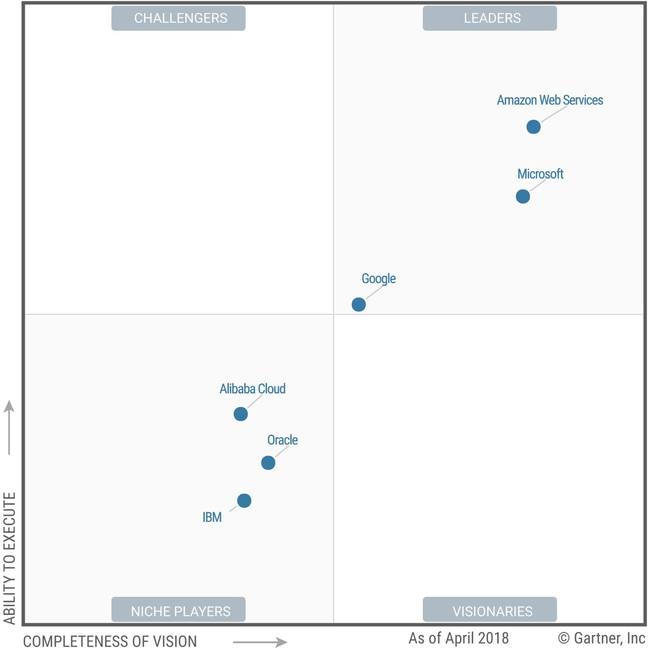 Gartner's 2018 Magic Quadrant for infrastructure as a Service. Click to enlarge
Let's start with the three firms identified as leaders on the Quizzical Quadrilateral.
The analyst firm says AWS is the most mature cloud and has come to be seen as a safe choice, but cautions: "Customers should be aware that while it's easy to get started, optimal use — especially keeping up with new service innovations and best practices, and managing costs — may challenge even highly agile, expert IT organizations, including AWS partners. As new, less-experienced MSPs are added to AWS's Audited MSP Partner program, this designation is becoming less of an assurance of MSP quality."
Microsoft's Azure has similar problems: Gartner says "Microsoft's sales, field solutions architects and professional service teams did not have an adequate technical understanding of Azure."
"Technical support personnel may also lack adequate expertise," the firm adds. "The FastTrack program, which provides onboarding support from Azure engineering, results in successful pilots. Customers should use an MSP to execute a more successful implementation, but Microsoft has just begun the process of certifying MSPs; expert, experienced MSPs will be identified in partner directories starting in 3Q18."
The firm also rates Azure as "optimized to deliver ease of use to novices with simple projects" which is great but "comes at the cost of sometimes making complex configurations difficult and frustrating to implement."
Overall, however, Azure is rated a fine choice and especially so for organisations already committed to Microsoft.
Are we there yet, Google?
Gartner rated Google a solid choice even if its services aren't yet as broad as rivals. The firm said that Google's Customer Reliability Engineering program – which sees the company advise on how to run IT like Google's own site reliability engineers – is a positive, but is only offered to a few customers or through Rackspace and Pivotal.
On the downside, Gartner found that Google's positioned itself as the most cost-effective cloud, but "its deepest negotiated discounts are usually limited to a single-year contract."
Would-be Google cloud users are also warned that some current customers "sometimes cite ISV licensing and support challenges", among them the fact that "Oracle will not normally license or support its software on Google Compute Engine".