Cloud is a six-horse race, and three of those have been lapped
New Gartner Supernatural Square has AWS and Azure on top, IBM and Alibaba lagging and Oracle on an offensive
---
High pressure sales tactics and threats from Oracle
Speaking of Oracle, it's rated as a strong option for Oracle applications and "has a realistic perspective on its late entry into the market, and has a sensible engineering roadmap focused on building the capabilities necessary for targeted use cases."
Gartner's also noted that Oracle "has been relatively reliable at meeting its forecast engineering timelines."
But the firm also says Big Red's second-generation cloud "remains a bare-bones 'minimum viable product,' and it is arguably too minimal to be viable for a broad range of common cloud IaaS use cases." The company's channel is also nascent.
And then there's this observation that The Register imagines will shock few:
"Oracle sometimes uses high-pressure sales tactics to sell its cloud IaaS offerings, including software audits or threatening to dramatically raise the cost of database licenses if the customer chooses another cloud provider. Customers should be cautious of these tactics, thoroughly understand their options and evaluate the risks of adopting Oracle Cloud at this stage of its maturity."
Alibaba's also made the newly-trimmed quadrant, but largely on the strength of its business in China.
But not all of the services the company offers in China are available to customers elsewhere and what's left is a me-too cloud. Sometimes it's not even that: Garter wrote that the company "needs to build both technical and go-to-market capabilities desired by traditional enterprise customers with non-cloud-native workloads, especially Microsoft Windows-based workloads."
Another concern is that "The international portal can be confusing to use, as the capabilities available in each region are not always clear."
Big Blues
IBM scores the Quadrant's least-impressive position, with Gartner saying the company is "focused on helping customers with significant IT legacies, especially mainframe customers, gradually begin to take advantage of cloud services."
Big Blue is still working to integrate its clouds, with limited success.
"The IBM Cloud experience remains disjointed, although the integration continues to advance," the Quadrant intones. "SoftLayer infrastructure is available in 16 countries, and the container service in 12 countries, but the rest of IBM Cloud (Bluemix) is available in only four countries and in just two U.S. cities." But the company's Next-Generation Infrastructure (NGI) is still nowhere to be seen.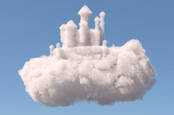 Gartner confirms what we all know: AWS and Microsoft are the cloud leaders, by a fair way
READ MORE
As it did in 2017's IaaS Quadrant, Gartner's therefore warned would-be users to brace for uncertainty.
"IBM is currently unable to publicly supply a beta or general-availability date for new NGI elements. The details of NGI services have not been announced. IBM has, throughout its history in the cloud IaaS business, repeatedly encountered engineering challenges that have negatively impacted its time to market."
"Customers must thus absorb the risk of an uncertain roadmap. This uncertainty also impacts partners, and therefore the potential ecosystem."
The whole document is yours for the reading here as a re-print paid for by Microsoft. If you want to be nice to Redmond, cough up some data to download it here. ®