This article is more than 1 year old
OnePlus 6: Perfect porridge? One has to make a smartphone that's juuuust right
Standing out from the crowd is getting difficult now
Review Like a broken record, with every phone review we publish, some Reg readers insist that their ancient <insert brand here> is perfectly good and there's no need to buy a new one. But take a bow, dear curmudgeons, for you have been proved wise. A lot of people now think so too. The broken record is the hit of 2018.
Take the challenge facing OnePlus, which analyst Ben Wood calls the "pop brand of the BBK empire".
BBK Electronics being the vast Chinese phone-maker which shifts hundreds of millions of phones under the Oppo and Vivo brands. BBK sells as many phones as Apple – or more in some quarters.
In developing markets people are spending a little more on phones, which makes OEMs, retailers and networks very happy. In mature, saturated markets like the UK, folk hang on to them for longer.
Here's how it goes. Every six months, OnePlus releases a phone, one in the spring and one at the end of the year. They compete in the same segment. The year-end release (suffixed with a "T") adds a few missing features to the spring model, and the spring model then falls in price. So logic suggests that whichever model you choose, you should be making that choice at the end of the year. This is a good time to be phone shopping anyway as the spring launches (e.g. Samsung's Galaxy S, LG and Sony to name a few) should now be discounted, and desperate Christmas deals appear.
(See here for a fascinating look at price depreciation.)
Curiously, it's OnePlus's spring release that gets the most fanfare. OnePlus even sells fans tickets to attend the launch. The ticket doesn't include a free phone. So the eternal question is: should you wait?
The answer is really not clear, given the intense competition in a saturated market, where new models don't really bring any new must-have features. I can think of only two useful and important features in the past five years – fingerprint unlocking and rapid charging. They make life a bit more convenient. Poo emojis and Clippy-style AI "helpers" don't. You knew that already.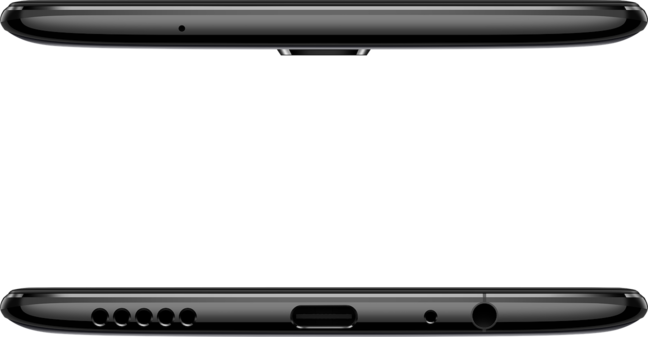 Click to enlarge
The decision is particularly vexing if you already have a OnePlus as these phones are so generously stuffed with RAM, making them more future-proofed than rivals. The 18-month-old OnePlus 3T sported a generous 6GB of RAM, and a very capable Snapdragon 821. It has more convenient dedicated capacitive buttons; refurbished they're going for £199 to £235 on eBay.
The same logic applies if you want a two-year-old Galaxy: the very excellent S7 Edge is £409 refurbished at Carphone Warehouse, or on eBay (in sealed box) for well under £300. It's a gem. The camera was the best Samsung was selling until a few weeks ago. No one will think you're a cheapskate for buying an S7 Edge.
Or how about... not buying a phone at all? If you've already got a OnePlus 3T in usable condition, pop in a new battery (you may even be lucky and persuade OnePlus to do it for you) and you've saved a fortune. Even the maligned 2015 model, the OnePlus 2, bombs along and can take great pictures. There's never been a better time to not buy a phone.
The figures reflect that a lot of people are now thinking such heretical thoughts. Sales of new models fell 29 per cent year-on-year in Q1 in the UK, according to Canalys, or 14 per cent, according to CCS Insight. Either way it's a big drop. In this climate, who'd be making phones or selling them? Not me.
So how has OnePlus responded to this? With startling innovation, perhaps, or a price cut? Actually, neither. OnePlus has put the prices up year-on-year, and the overall package, though likeable and tasteful, reflects what everyone else is doing.
Carving out a new niche?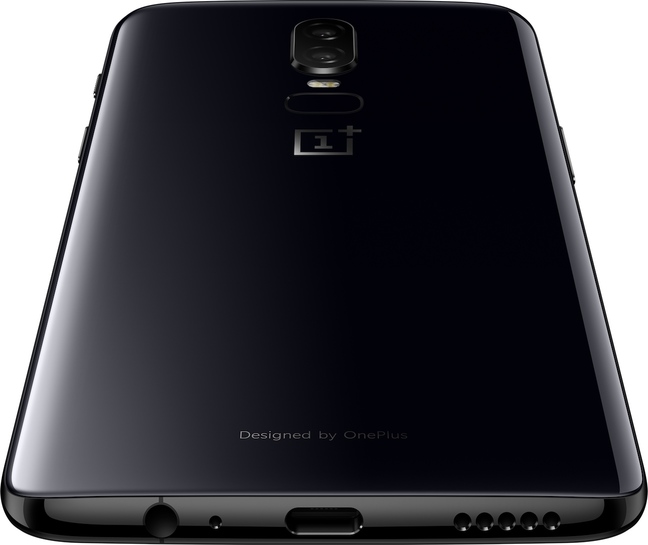 Click to enlarge
The OnePlus 6, like its predecessors, is a tastefully packaged reflection of what the mobile phone industry's supply chains can offer right now. The display is 19:9 (so there's an optional Notch, and consequential cramming of the notification icons) and it's a lovely OLED panel, but that's not unusual. It has a glass back, as almost every other new flagship smartphone does today (HTC, Sony and Apple to name a few all dispensed with metal for glass). The alarm slider is still there, and the cases are, as ever, lovely. There's no waterproofing or wireless charging, or SD card slot – still. The audio is still not class-leading. It doesn't boast any single outstanding feature, but does not do anything at all badly.
Only the 128GB model has crept up to £519 (for 8GB of RAM). You can get one for £469, but with 64GB and no slot I'm not sure why you'd want to. Maybe you live in the cloud. Maybe you live in the future – if so, bring back next year's model, please, along with the sterling-euro exchange rate and the winner of the Grand National. With the 256GB fixed storage version of the OnePlus 6 only £100 more expensive than the 64GB, someone who carries around a lot of media with them won't find the choice difficult.
This phone now dwells in what we might call the "sub-flagship prices" niche, and OnePlus may sincerely argue that's where it's been all along, and is the very bedrock of its reputation. A sceptic might note that when it launched the OnePlus One in 2014, it was £249 compared to the rival £549 top-brand flagships, so the difference in price has diminished but the difference in features has not.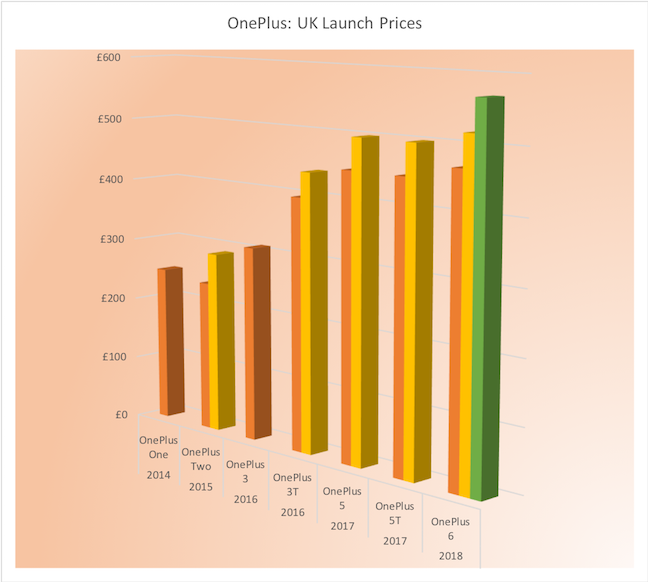 We've come a long way in two years. Launch prices of the OnePlus flagships. It was £300 or less just two years ago
Now let's see what OnePlus offers for your shekels.
Design and hardware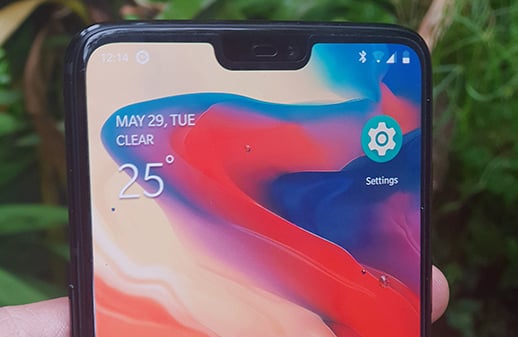 All meals now come with Gnocchi
A glossy glass back and a Notch. Like almost every other phone this year. A fair number of recent flagships this spring have all looked almost identical, nice curved corners but a pointless Notch. That's the main story here, although it doesn't quite tell the full story.
The OnePlus retains its common-sense traits of an alert slider and an audio jack, the latter kept on because of community demand, when flagship rivals are discarding theirs. First Apple killed off the audio jack port, then HTC, then Motorola, then Google, then Huawei, then Sony – yes, even Sony – killed it off too in their high-end products. I wonder if for all the obsession with minutiae, it's these things that really count.
As with other gone-to-glass Androids, the rear becomes instantly ugly from smudges – OnePlus does include a clear case, but why can't any of these phones receive an oleophobic spray before they're sent out? It would wear off, but at least first impressions wouldn't be so disappointing.
I preferred the alert slider on the left where it always has been, but this spot is now taken up by the volume buttons.
The display is excellent, if not quite as bright as the Galaxy. At least it's not as dismal as the Pixel 2's display, which is hard to read outdoors. Like all modern OLEDs, it isn't WYSIWYG: you need to mute the colours to really see the photo you've just taken. OnePlus offers a variety of calibration modes including DCI-P3 for movies. I found the OnePlus rendered small text comfortably, which is always a sign of a decent display.
Battery and call quality are good, but not great. The phone should last a day on its 3,300mAh battery. It's adequate, for sure, but I'd like to see some attention to this as these two features are still top of most people's essential requirements. A reminder that OnePlus does not use Qualcomm's standard charging, but BBK's proprietary Dash charger: meaning both proprietary plug and proprietary cable are needed to get the benefit of something slightly but not much faster than the 'Droid standard. Boo.
Unfortunately, community-led design also means inertia. The vibration on OnePlus has always felt like a soggy, wet fart, and it's still poor. And many, if not most, readers would prefer microSD expansion to a second SIM slot. Presumably not enough people in the OnePlus community care enough to ask for either a decent vibration motor or a microSD slot. Shame.
Software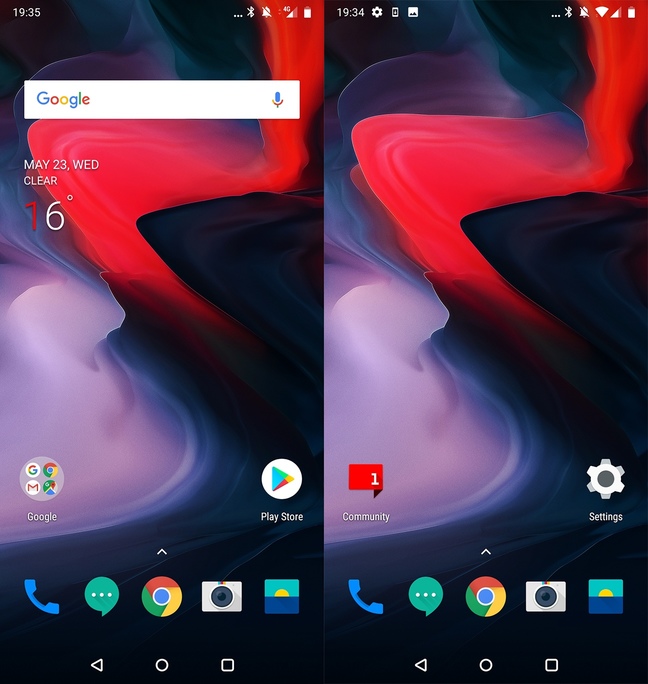 Click to enlarge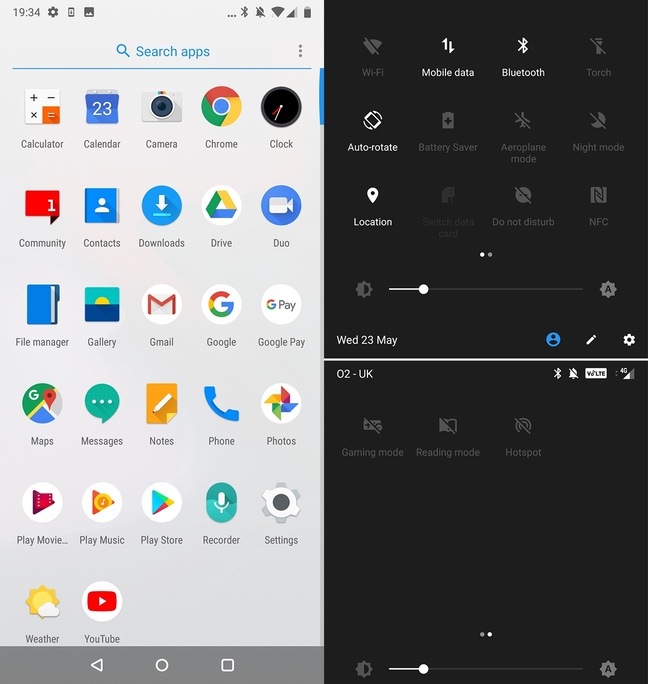 Click to enlarge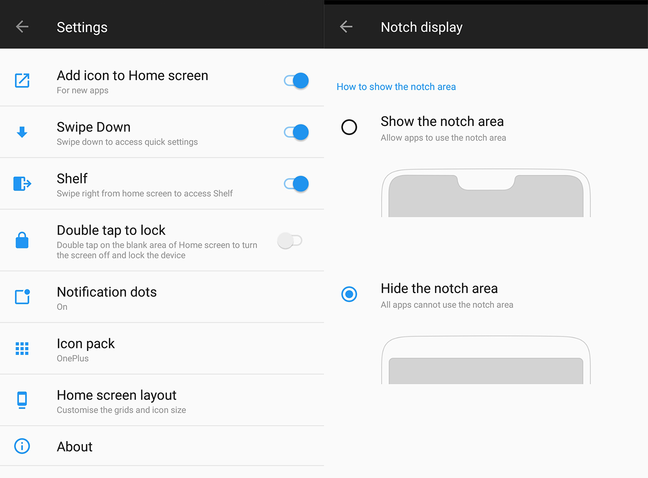 Click to enlarge
"Restrained" and "tasteful" come to mind when describing the OnePlus Oxygen skin. OnePlus is all about shunning gimmicks and novelty. The superb OLED display, the smart Slate font and the restrained design aesthetic all come together really nicely.
Restraint is very much underrated. For example, the launcher's "shelf" panel to the left of the home screen remains sparse and useful: it has not sprouted a tracker-infested news feed, it does not bombard you with suggestions, promotions, tips, demands for ratings and so on. It does not want to learn about you or ever interrupt you. It's just a bare-bones panel where you can stuff the widgets you want. Well done OnePlus, for the minimalism and eschewing gimmicks and novelty.
It means change is incremental. Over the year OnePlus has added a monochrome reading mode and a gaming mode (turning off notifications and power throttling), for example, although the ultra low-power "feature phone" mode I'd like to see remains elusive. Otherwise it's very close to vanilla Android. Inexplicably, the Always On Display has been dropped, OnePlus says it's because of power worries. Samsung seems to manage, but then Samsung makes its own AMOLED displays.
You have the option of a black theme, as an OLED device should. OnePlus also has a go at introducing gestures, which feels like an experiment right now. Google is also experimenting with gestures in the ongoing Android P beta, so everything right now is very provisional. With the OnePlus implementation, you swipe up to get to the home screen, up and hold to invoke the app switcher, and swipe up from the right side to go back. One of these, the first, works intuitively enough. But swiping from one side of the screen makes you think about finger positioning, negating the point of a gesture UI, which is that you shouldn't have to think about it. It also interferes with the standard Android gesture to pull up the app drawer: a straightforward swipe up. At least it's optional and off by default.
I like to see an OEM include their own gallery app, as it shows some ambitions for the camera. OnePlus is one of few remaining OEMs to bother.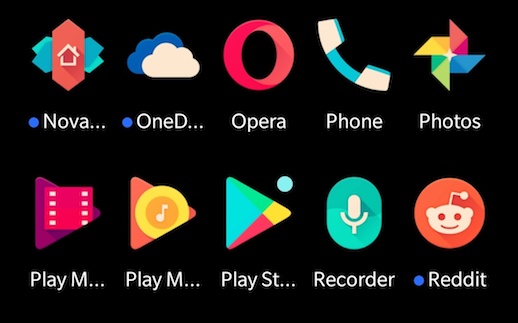 Lack of text wrapping in the launcher means things look messy when the font is larger than the default size