This article is more than 1 year old
Cisco turns to AMD Epyc for the first time in new UCS model
Four-in-a-box servers Are Not Blades. They're a scale-out-and-up density play, geddit?
Cisco has decided its UCS server family needs a new member for dense data centres and edge deployments.
Behold, therefore, the "UCS C4200 Platform", comprising the UCS C4200 Series Rack Server Chassis and the UCS C125 M5 Rack Server Node.
The 2U chassis can house four of the servers and 24 disk drives, and offers shared power and cooling. But as described to The Register by Cisco's director of product management for UCS James Leach, "This is not a blade environment because you are not sharing the fabric."
The server runs one or two AMD Epyc 7000 series processors, devices Cisco chose because it feels they deliver better price/performance/watt ratios than rivals. Leach said there's no reason Cisco could not or would not create an Intel-based server to fit the chassis, or even an Arm-powered machine if demand emerged, but that for now AMD does the best job of meeting Cisco's aim of density with low operating costs.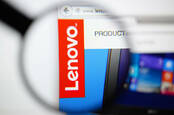 Lenovo thought PC salesfolk could sell servers and was wrong by about $500m
READ MORE
"When you look at the benefits in a single socket server, you get high core count and low power," Leach said. "And at the same time you bring in a different economic ratio of price per core. In addition they have done a lot of exciting work about encryption on the CPU."
All of which will be music to AMD's ears, given this is its debut in UCS servers.
Cisco has suggested the new platform for two roles, one of which is dense data centre deployments in small-to-medium service providers that aren't quite big enough to go all-in with a proper hyperscale rig. The other is on the edge, in roles like helping gaming companies compute and storage closer to their customers.
In the latter role, Cisco thinks buyers will appreciate the fact that the platform can be managed with UCS manager or its cloudy Intersight management tool. AMD's encryption is also a selling point on the edge.
In the former, Cisco thinks the new kit will scale as high and as broad as anything else in the UCS portfolio.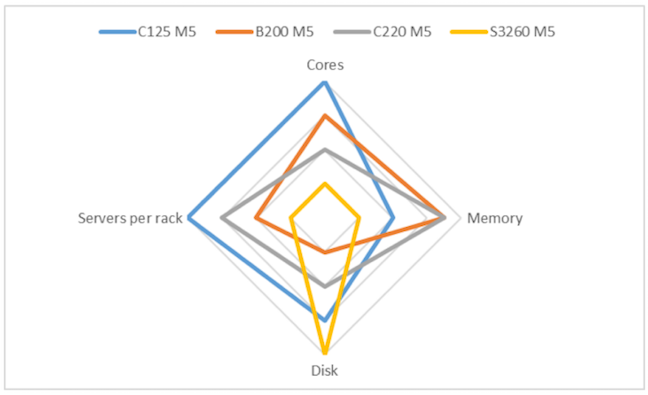 Cisco's UCS range and what Switchzilla thinks it's good for
Other features of the server include:
Up to two AMD Epyc CPUs (up to 32 cores per socket)
16 DIMM slots (8 per CPU socket) for up to 2 TB of capacity using 128 GB DIMMs
2666 - MHz DDR4 memory
2 PCIe 3.0 slots
Optional 4 th Gen Cisco Virtual Interface Card
Six SAS/SATA drives per C125 server (front mounted in the C4200 chassis) or
Up to 2 NVMe drives plus four SAS/SATA per C125 M5 server
Cisco 12G 9460-8i PCIe 12G SAS RAID Controller
Flexible OCP 2.0 network mezzanine slot supporting speeds of 10, 25, 40, up to 100Gbps
Internal SD or M.2 boot options
The new kit can also by hyperconverged with Cisco's Hyperflex software, but it's staying quiet about that for now.
Cisco has always been realistic with UCS, which it knows is not a mass-market product. That strategy has worked just fine because there is little margin in commodity servers and Cisco has been able to skim the cream.
Expanding the UCS range means it has a chance to do so in more roles. Choosing AMD to help it do so is a win for the chip-maker. Whether Epyc and easier management are enough to wean service providers off their liking for commodity kit remains to be seen. ®