American venture capitalist Mary Meeker's annual "bible" of internet and macroeconomic trends has been a fixture since the dotcom heyday, and as you would expect from a tech VC, it emphasises the good news. But it's not such good news if you're a high street retailer, rely on desktop users, or make smartphones.
Out of 294 slides in the Kleiner Perkins partner's latest report, just one covers the problems the giant platforms are facing. Issues of ad fraud, fake news and hate speech are given the umbrella heading "Accountability Rising". Hurrah!
Last year Meeker highlighted the awkward fact that Facebook and Google hoover up 76 per cent of growth in digital advertising. Awkward. That's glossed over this year.
As ever with Meeker's digest, the long-term trends she highlights are worth consideration: particularly household spending since 1972. Americans now spend more on shelter and health than they used to, and the same or less for everything else.
Maintaining a car is more costly than it once was, but car prices have fallen, so overall household transportation spending is flat – probably because of leasing. (This is often described as a bubble, as the debt is repackaged and sold on - with subprime auto loans reckoned to be valued at around $300bn – but it's a bubble that has yet to burst.)
The other eye-catching macro trend is labour force participation, which is now 3.5 million below the 50-year average of 64 per cent in the USA, and has been declining since the 1970s. Next to that is a note that on-demand platform workers have increased 23 per cent. This covers not only Amazon and Uber drivers, but Etsy sellers and AirBnB hosts. The average hourly income of such workers is $34, but the annual income is $12,000. 12 per cent of AirBnB hosts had managed to avoid foreclosure by "sharing", oops, renting out spare space.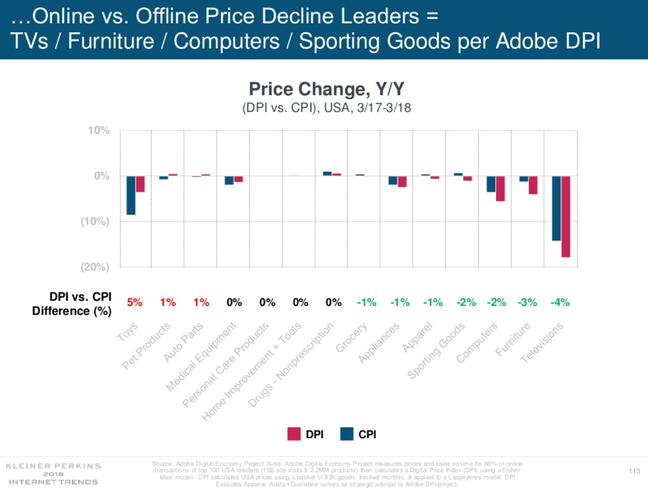 Click to enlarge
To Meeker, the fact that no Uber driver is ever told "when or where to work" is "quite remarkable – an entire global network miraculously 'level loads' on its own". She notes how the Uber network is able to "elegantly match supply and demand without 'schedules' and 'shifts'."
Critics point out that Uber is subsidising its network using VC capital – to the tune of $7m a day, essentially offering lifts at below cost. Once that VC money runs out it is likely to raise prices. "One of their senior executives has said that Uber currently take 20 per cent of every ride but they'll take 30 per cent of every ride where they can, 'because we can'," tech author Tom Slee told The Reg in 2016.
Meeker's biggest source of optimism is the "consumerisation of healthcare". Americans are spending more on health as a proportion of the household budget than ever, so she expects them to start acting like consumers.
Giants dominate tech as growth slows
Overall the growth in the number of internet users worldwide has halted: more come on every year, but the rate is now flat. The 8 per cent year-on-year increase is the lowest for a decade. The internet now reaches 49 per cent of humanity.
Smartphone growth has plateaued. The hours spent on desktop computers peaked in 2011 and has been declining ever since. This is reflected in digital advertising: all the growth has come from mobile in recent years, since 2014.
Meeker, predictably, sees an upside. There's a 7 per cent disparity between time spent on mobile and mobile ad spending.
Despite being an early backer of Facebook, Meeker notes how insignificant social platforms are in driving transactions. Two per cent of referrals to e-commerce sites came from social media in Q1 2015, and it's only 6 per cent now. Shopping may be social, but people aren't on social media to shop.
The winner is Amazon, which amassed 49 per cent of all commerce searches. Just 36 per cent go through a search engine. It makes you wonder why Amazon wanted to make a phone since it already has so many advantages over competitors: deep tech like AWS, data analytics and AI, and scale. With its always-on Echo, it now has your conversations, too.
Privacy advocates will be heartened by these numbers, though.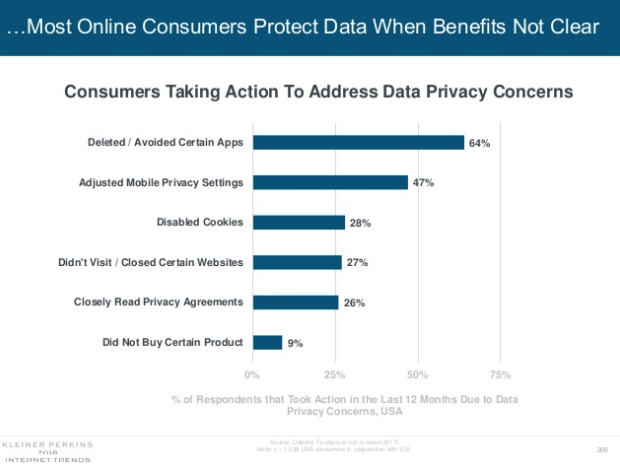 Meeker doesn't dwell on whether a growing awareness of personal data poses a risk to the models VCs eulogise. But we'll spell it out. If economic efficiencies and growth depend on data analysis, and people withhold their data, where do efficiencies and growth come from?
Answers on a Pets.com sock puppet, please.®