This article is more than 1 year old
Double trouble at tape survivor Quantum as CEO and CFO quit firm
One (un)lucky guy shoved two workloads
Scale-out storage firm Quantum has announced that CEO Patrick Dennis is stepping down to focus on family matters. CFO Fuad Ahmad has also left.
Michael Dodson has joined as new CFO and interim CEO effective today. Quantum's board is now actively searching for a permanent CEO.
To hire a CFO then lose the new CEO who hired him is unfortunate, particularly when the CEO was hired to fix a mess.
Quantum faces a number of issues, being a $450m-run-rate business, down from $1bn in 2007, while its largest largest product, tape, is in decline.
Quantum said Dodson will lead its business transformation and cost-savings initiatives to achieve sustained profitability.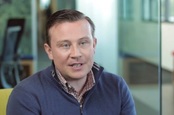 New Quantum head honcho thrown in at the deep end
READ MORE
Dodson has strong accounting credentials, the firm said, a proven record of improving profitability and deep experience with capital markets.
Dennis had only been at Quantum for five months, having joined in January.
The reasons for Ahmad's departure are a mystery. He had been CFO since April 2016. Chairman Raghu Rau said: "I wish to thank Patrick and Fuad for their service and welcome Michael to Quantum."
Dodson has solid CFO experience and his hiring suggests Quantum may be looking to raise money or do something deep with debt. ®