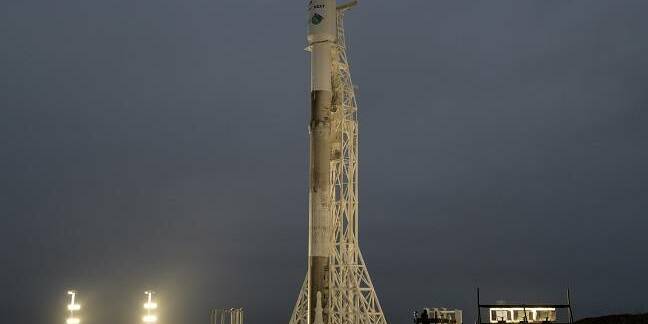 Updated After taking an extra day to look over the second-hand Falcon 9 following its static fire on 25 May, engineers plan to light the blue touch-paper and stand well back on 1 June.
The night launch, currently scheduled for some time between 0429 and 0657 (UTC) on 1 June, stands only a 40 per cent chance of getting off the ground due to weather constraints, assuming SpaceX doesn't decide to take a bit longer to ensure the rocket's swan song goes to plan.
The likelihood of launching the following day, 2 June, improves to 60 per cent (at least from the weather perspective.)
As with the previous launch, SpaceX does not intend to attempt a recovery of the booster after it has lifted off from the SLC-40 pad at Cape Canaveral Air Force Station.
As the first stage is an older Block 4 core (previously used to fling the super secret OTV reusable spacecraft into orbit in September 2017) there appears to be little appetite to bother with recovery as Elon Musk's rocketeers move into the glorious Block 5 future.
The Falcon 9 will be carrying the 5,300 kg SES-12 communications satellite to orbit, to co-locate with the SES-8, which was SpaceX's first geostationary launch back in December 2013.
Together, the satellites will blast 18 million lucky customers across the Asia-Pacific region with HD and Ultra HD content as well as offering data services. SES-12 will largely replace the existing NSS-6 satellite, which is coming to the end of its operational life, having been launched 2002. SES-12 is expected to put in at least 18 years of service.
SES has shown a great deal of confidence in the rocketry upstart, and the 1 June launch will be the sixth onboard a Falcon 9 for the communication satellite provider since 2013.
SES's last launch, in January 2018, was on a competing Ariane 5 ECA launcher where a programming error dumped SES-14 in the wrong orbit. Fortunately, SES was able to spend a little longer on the commissioning phase to shift the spacecraft to the correct spot in the sky. ®
Update
SpaceX engineers have decided that a bit more time is needed for unspecified checks on the Falcon 9's second stage. Launch is now scheduled for 4 June.
Sponsored: Webcast: Simplify data protection on AWS