Facebook's controversial Trending section has fallen out of fashion and will be removed next week, along with products and third-party partner integrations that rely on the Trends API.
Introduced in 2014, the section, available on desktop and mobile devices, was intended "to help people discover content that is both popular in the world and meaningful to them."
In 2016, reports surfaced that the Trending section suppressed conservative news stories. In answer, CEO Mark Zuckerberg said the company had found no evidence of this, but insisted steps would be taken to remedy the situation if evidence emerged.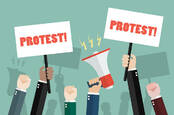 Facebook stockholders tell Zuck to reform voting rules as data scandal branded 'human rights violation'
READ MORE
Nonetheless, the dustup prompted inquiries from partisan legislators aghast at the thought of political bias.
Facebook, ever eager avoid the liability that comes with being a publisher, said there was no bias...but nonetheless allowed that it "could not fully exclude the possibility of isolated improper actions or unintentional bias in the implementation of our guidelines or policies."
And so further commitments to change were made, "to restore any loss of trust in the Trending Topics feature," from the bias that Facebook couldn't find.
A few months later, Facebook axed its Trending contract workers to make the product more automated, as if code written by people would somehow be free of the bias evident in decisions made by people.
Then additional tweaks were made last year.
The operational and algorithmic surgery evidently did not have the desired effect. The Trending section is no longer trending among Facebook users.
"We've seen that the way people consume news on Facebook is changing to be primarily on mobile and increasingly through news video," explained Alex Hardiman, head of news products, in a blog post. "So we're exploring new ways to help people stay informed about timely, breaking news that matters to them, while making sure the news they see on Facebook is from trustworthy and quality sources."
These new ways include a Breaking News label in the News Feed section for select publishers, a locally focused section that's being tested called Today In, and the addition of news video for US users of Facebook Watch. ®
Similar topics