This article is more than 1 year old
Ex-US pres Bill Clinton has written a cyber-attack pulp thriller. With James Patterson. Really
It's about an impeached commander-in-chief... and infosec. Get your popcorn
Pop murder mystery scribe James Patterson has teamed up with former US President Bill Clinton to co-author novel about a commander-in-chief going undercover to prevent a catastrophic cyber attack.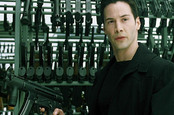 El Reg's favourite Haxploitation films
READ MORE
The President is Missing, already half-price on Amazon for £10, has so far received mixed reviews. USA Today gave it two-and-a-half stars out of four, saying that while it isn't going to win the Pulitzer Prize "the curiosity factor is sure to entice millions of readers".
During the writing process, Clinton provided insight into what it's like to be POTUS.
The plot centres around President Jonathan "Lincoln" Duncan (sounds legit), who is up for impeachment (no, nothing to do with cigars) – having made a phone call to the world's most-wanted terrorist. But in the process he discovers a plot to unleash a virus so horrible it is called the Dark Ages.
In a plot that is basically a cross between Die Hard 4 and White House Down, rather than leave it to the pen-pushing bureaucrats, or indeed the National Security Agency, Duncan rolls up his sleeves and goes undercover to take on the cybercrims himself.
That journey leads him to meeting two young cyber terrorists who are having second thoughts about helping to plant the virus – not least because it will apparently shut down every operating system in America once it's activated.
In an interview with the BBC, Clinton said that while he wants to see the situation in North Korea resolved: "[A] cyber attack could kill a lot more people in a lot less time, just by shutting down things."
Clinton is said to be a fan of Kiss the Girls author Patterson, who has churned out more than 100 books and published 300 million copies worldwide.
Fellow author Stephen King has gone on record as being less than impressed, describing him as "a terrible writer" but "very successful". ®