nbn™ ponders a gamers' gate to throttle heavy wireless users
Using your service as advertised? How dare you!
---
Gamers are the enemy of fixed wireless connections on Australia's National Broadband Network (NBN).
Bill Morrow, the outgoing CEO of nbn™, the company building and operating the NBN, yesterday told the Joint Standing Committee on the NBN yesterday that the company is considering download throttling during peak times as a way to cope with congestion experienced by users on fixed wireless connections.
While average usage of the network is around 200 GB month, he said, there are users on the wireless network sucking down data by the terabyte.
The wireless component of the network is built to catch users outside the fixed-line NBN footprint, but not so remote as to require satellite services.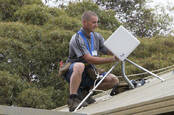 Waiting for 100 Mbps NBN on wireless? Errr, umm, sorry about that
READ MORE
Speaking of "super users" who are "consuming terabytes of data", Morrow said nbn™'s "question is should we actually groom those down?"
The network also suffers from greater concurrency than nbn™ had forecast, and it has to cope with the rise of video streaming.
The company can't be certain that gamers are the heaviest bandwidth consumers: it's a Layer 2 network, and user traffic at Layer 3 isn't visible to the company. However, Morrow said he believed a "fair use" policy to cap the heaviest users would predominantly effect gamers who demanded a "steady streaming process".
In late May, the company said backhaul constraints in the were the reason it had abandoned plans to offer 100 Mbps services to the roughly 600,000 customers eventually to receive a fixed wireless connection (around 230,000 are currently in service).
However, Morrow's remarks yesterday seem at odds with his earlier claim that 100 Mbps fixed wireless retail plans were unnecessary, because "there's not mass-market demand" for high capacity services. ®
Similar topics
Broader topics