This article is more than 1 year old
Uber 'does not exist any more' says Turkish president
Authorities start rounding up ride share drivers, passengers
Turkish president Recep Tayyip Erdoğan has declared that Uber is "finished" in the nation and not long afterwards local authorities started finding ride-sharing operators.
Erdoğan is currently on the campaign trail and in a Friday, June 1st, speech said "This thing called Uber emerged. That business is finished. That does not exist anymore."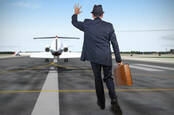 Uber and NASA pen flying taxi probe pact
READ MORE
The proclamation was widely seen as a pitch to Erdoğan's working class supporters, especially the city of Istanbul's 15,000-plus cab drivers. Like many cabbies around the world, Istanbul's have laid out lotsa lira for licences only to see the value of their asset slump after ride-sharing services start. The drivers' union has gone to the courts in an attempt to have Uber banned, expressing anti-western sentiments along the way.
Erdoğan's no fan of the west either, so banning Uber will go down well with many of his supporters.
Local press reports that following Erdoğan's remarks traffic police increased spot checks on ride-sharing operators, handing out fines-a-plenty.
Istanbul cabbies have reportedly harassed and been violent towards Uber drivers and riders, while criticism of the company and its customers has even seen them labelled traitors for supporting the company. ®