FYI: Qualcomm hasn't given up on Arm-based Windows 10 slabtops
Snapdragon 850 is latest attempt to lure PC makers, buyers from the x86 realm
Like a lawman in an old-timey Western movie running while firing his pistol at escaping bandits, Qualcomm is running through PC land shooting out Snapdragon system-on-chips at computer manufacturers.
Today, in time for Computex in Taiwan, Qualy emitted details of the Snapdragon 850, a 64-bit Arm-compatible octo-core processor aimed at touchscreen tablet-sized smartphones disguised as laptops. This 10nm FinFET Snapdragon is expected to appear in Microsoft Windows 10 PCs shipping in time for Christmas 2018.
The 850 is a bit of a surprise because it is very similar to the Snapdragon 845, which was unveiled in December and is also aimed at fondleslab-notebook hybrids and top-end phones. And the 845 followed the 835, which was announced in 2016 and entered production in 2017. The Snapdragon 835 made its way into various Windows 10 slabtops, the kind of hardware the 850 and the 845 are also aimed at. So you can see Qualcomm is really firing them out, trying to get these chips to stick to something.
The problem with the SDM835-based PCs is that they carried a price tag heftier than some expected, especially given the relatively mid-range performance offered and the emulation layer encountered when running x86-only software on the Armv8-compatible chipset. The Arm port of Windows 10 shipping on the computers also only ran 32-bit applications.
Microsoft has since released a development kit, the ARM64 SDK, allowing programmers to build 64-bit apps that run natively on the Snapdragons with the latest April update of Windows 10. This OS upgrade includes a 64-bit Arm build of the Edge browser, and is said to run faster on Arm-based hardware.
So by the end of the year, your Qualcomm-powered fondleputer should be running native 32-bit and 64-bit applications, with emulation picking up the stubbornly x86-only packages.
These slabtop devices are heavily focused on wireless connectivity – 4G/LTE mobile broadband as standard as well as Wi-Fi – as well as long battery lives, allowing people to work on stuff online for potentially more than a day on the go between charges. As such, the processor is tuned to play it cool, literally, and sip energy, rather than give you maximum bang for your buck.
Any enthusiasm we encountered for the slabtop hardware was dampened by the prices: they were figures – starting from $600 to $800 – seemingly picked to match what early adopters and evangelists would be happy to pay, whereas your typical punter may not want to spend more than a few hundred quid on a Chromebook-like web-surfing machine.
So, fingers crossed whatever the 850, or the 845 or 835 for that matter, will go into will be a little more affordable for those of us who just want to check email, read PDFs, type up notes, and SSH into servers wherever we are.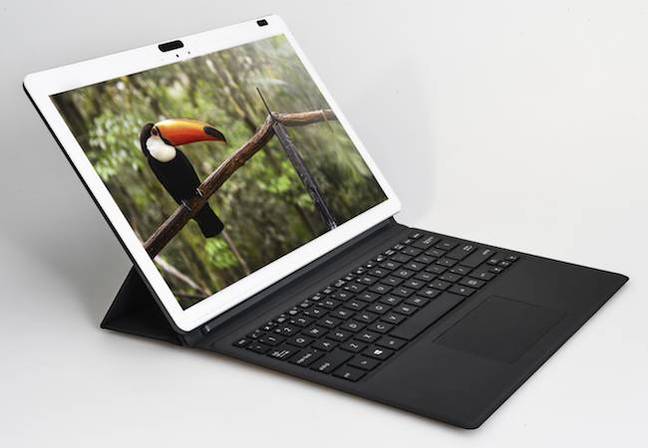 Hidden Snapdragon ... A reference design for an SDM850-based tablet-netbook hybrid
The Snapdragon 845, shown off in December, is a Samsung-fabricated 10nm FinFET (10LPP) device with four beefy Arm Cortex-A75 cores, clocked up to 2.8GHz, and four smaller Cortex-A55 CPU cores. The larger cores take on workloads that need extra oomph, whereas the A55s will do most of the grunt work. It also sports an Adreno 630 GPU, X20 LTE cellular modem, and lots of other bits and pieces.
Now let's look at the 850. It's also a Samsung-built 10nm FinFET component, with four Cortex-A75 cores, clocked up to 2.96GHz, and four A55s, plus an Adreno 630 GPU, and an X20 cellular modem.
The 850 also has the same Spectra 280 image processor as the 845, the same Hexagon 685 DSP for accelerating machine-learning software and other math-heavy tasks in hardware, the same secure coprocessor unit, the same Wi-Fi... it's basically the same system-on-chip. The CPU clock speed is just a touch faster.
In fact, in slides of specifications and comparisons Qualcomm showed journalists ahead of today's launch, there's no mention of the Snapdragon 845. It is skipped. Instead, Qualy compares the 850 to the 835.
It's not like the 845 doesn't exist – it's still on Qualcomm's website – and it's the SoC inside non-European Samsung Galaxy S9 and S9+ phones, for example. It's a bit of a mess because 845-based PCs are rumored to be in development, and are expected to ship this year, but will be closely followed by machines using the Snapdragon 850 at the end of the year, even though there is little difference between the 845 and the 850.
So, if you see a Snapdragon 850 or 845 in a spec sheet for a machine, remember they are virtually the same feature-wise, on paper at least. The 850 has a CPU speed edge on the 845.
Reviewers suggested people who aren't highly enthusiastic early adopters should skip the 835-based PCs, and wait for the 845 models to land. So, would that be the 845 or the 850, now? Probably both.
And before anyone points at Intel's bewildering list of available processor parts, sure, we don't like that either. It's like CPU architects are channeling Groucho Marx: those are my processor models, and if you don't like them... well, I have others.
Analysis
Last month, we gave Qualcomm a bit of a kicking over its Snapdragon 710, making light of the fact that it is licensing off-the-shelf Arm Cortex-A cores, with a few minor tweaks and customizations, for the brains of its silicon, as opposed to designing its own CPUs from scratch as it used to. This situation partly arose as a result of Qualcomm moving its mobile processor core engineers onto its server chip project that was subsequently axed.
That left Qualcomm's smartphone and mobile computing wing using Arm's blueprints for its chips – which is not necessarily a bad thing, because it's not as though the Cortex-A family sucks, and plenty of chipmakers license the designs.
However, we're looking to Qualcomm to differentiate its technology from what's available to every other chip house on the planet, and what's inside competing chipsets, such as Intel and AMD's mobile-friendly gear.
Qualcomm's Snapdragon 4G/LTE modems are the gold standard in the cellular networking world. Its system-on-chips, meanwhile, use a mix of Qualy's GPU, DSP, and image processor cores, plus Arm's Cortex-A series.
Whether or not this heterogenous cauldron of technology is enough to make Snapdragon 845, er, 850 Windows 10 PCs competitive in the market will be apparent by the time the Christmas sales figures trickle in. ®