This article is more than 1 year old
SAP hopes to blow the doors off Salesforce with a block of C/4HANA
It's war for biz customers as ERP king eyes up CRM lands
SAP has overhauled its CRM offering, launching a suite of applications under the banner C/4HANA, as the German biz best known for ERP aims to take on Salesforce.
Speaking today at SAP's annual gabfest, Sapphire Now, chief executive Bill McDermott touted the move as a huge step change for SAP that would modernise CRM by focusing not on sales but the consumer.
The firm is aiming to use its strong position in the back-office market to convince users to also adopt its front-office, CRM, products.
It is offering full integration with ERP suite S/4HANA, as well as various other bells and whistles, such as a new data management suite for full control of highly distributed data, which was also launched today.
McDermott said that users were tired of "legacy CRM" and were unhappy with the customer experience offered by existing vendors.
He described the change as being "from a 360 degree view of sales automation, where some companies focus, to a 360 degree view of the actual customer."
This is central to what the firm is pushing when it talks about C/4HANA: their system is based on the consumer, when existing offerings focus on sales.
Alex Atzberger, president of SAP Customer Experience, said during the keynote session that customers are increasingly in charge of defining their relationships with companies.
"They don't think about B2B and B2C, they think about 'Me2b'," he said, arguing that companies need to recognise that consumers are gaining the power to define brands, and will "rebel against being treated like sales opportunities."
The CRM suite was heavily hinted at during the firm's Q1 earnings call, when McDermott said SAP was going to "rebrand the whole CRM category."
Laying siege to Salesforce
In a press and analysts session today, McDermott threw more shots across the bows, saying of SAP's competitors: "We have a new idea, a better idea - and the better idea always wins."
He added: "We will not waiver, we will not bend until we finally take over the CRM marketplace."
Although he didn't mention Salesforce by name, he didn't have to: the firm has dominated the CRM market for years, with SAP ranked second, followed by Oracle and then Microsoft, Adobe and others.
In 2017, Gartner put Salesforce with an 18.8 per cent market share, and was growing faster than the market rate, while SAP had 8.5 per cent worldwide share and grew slightly slower.
And the pressure is on SAP to catch up - Gartner analyst Ed Thompson said the CRM market is expected to reach more than $75bn by end of 2022, compared with $44nn for ERP, meaning that SAP has to do well in CRM - but it still has more to do.
"It will take more than just launching C4/HANA to close the gap," he said. "They'll need to find a way to appeal to those who are not existing SAP customers for CRM, widen their ecosystem of ISV and consulting partners, and make ground in the industries they haven't traditionally sold CRM to."
SAP's launch comes after a series of CRM acquisitions made by the firm, including one announced today, of Swiss field service management biz Coresystems, which provides real-time scheduling for customer service requests.
Other recent acquisitions include a $2.4bn deal to buy sales performance management firm CallidusCloud and a $350m buy of customer identity management biz Gigya, while it acquired ecommerce plaform Hybris for $1.4bn in 2013.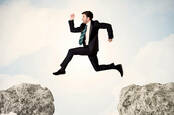 Cocky SAP struts stuff after cloud sales pass €1 BEEELLION
READ MORE
These have been built into the C/4HANA suite as SAP Sales Cloud, SAP Customer Data Cloud, SAP Marketing Cloud, SAP Service Cloud and SAP Commerce Cloud.
Thompson said that bringing these products under one brand, as C/4HANA, was a good move to consolidate SAP's architectures and "remove confusing sub-brands" so it had one roadmap in the CRM market.
"But it will require a quick follow up with details on architecture and roadmap to back up the strategy, and it doesn't yet address the issue of how this will encourage a CRM ecosystem of partners and facilitate increased innovation," he added.
The decision to rebrand its CRM offering as an end-to-end service that integrates with SAP's ERP offerings is part of wider moves to get customers back on side.
During 2017, the firm's crackdown on indirect access saw customers with software that connected to data stored on SAP systems - even indirectly - worried they would be hit with a high cost sueball.
This became more of an issue in recent years due to the number of other systems accessing SAP's increased rapidly - and indeed, Salesforce was among that number.
Although SAP recently overhauled its licensing rules, presumably the firm will be happy to ease customers' minds by suggesting they just use SAP's new CRM suite instead. ®