This article is more than 1 year old
Just a third of Brit cops are equipped to fight crime that is 'cyber'
Bad news if you've been defrauded online
Just one in three police forces in the UK are able to tackle cybercrime such as DDoS, malware attacks and online fraud, a Home Affairs Committee heard today.
Sara Thornton, chair of the National Police Chiefs' Council, told MPs that research conducted last year revealed a lack of skills across the country's 43 police forces.
"Work has been drawn up to build cyber units within forces," she said, adding that agreements have been put in place with the National Crime Agency on what that structure might look like. "We've got some plans, but it is still a work in progress."
The National Crime Agency recently warned that UK cybercrime activity rose in "scale and complexity" last year. It blamed encryption for making it more difficult for law enforcement agencies to detect dangerous offenders.
Thornton also welcomed plans by Home Secretary Sajid Javid for MI5 to declassify and share information on UK citizens suspected of having terrorist sympathies.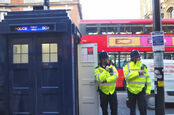 The Reg visits London Met Police's digital and electronics forensics labs
READ MORE
In his counter-terror strategy yesterday, Javid said new detection techniques, data analytics and machine learning all have the potential to dramatically enhance counter-terrorism capabilities.
However, handling the volume and complexity of data remains a key challenge for forces, said Cressida Dick, Metropolitan Police Commissioner. She told MPs she was "deeply concerned about the exponential rise in digital data and the impact that is having".
Cops have said that 90 per cent of crime has "a digital element", meaning an increase in the amount of data stored and seizure of phones.
Dick added there were also "ethical and legal issues that the data age poses to law enforcement" – citing police use of controversial facial recognition technology.
"There is a whole series of things that are moving extremely fast and the ability of the law to keep up with that... in a meaningful way in the absence of ethical discussions and legal frameworks is a real challenge for us." ®