Monday: Intel touts 28-core desktop CPU. Tuesday: AMD turns Threadripper up to 32
It's crazy how a little competition can cause that
---
AMD this week promised to ship 32-core Ryzen Threadripper 2 processors in the third quarter of 2018 – one day after Intel bragged about a forthcoming 28-core part.
On Monday, Intel, the dominant CPU maker in the worlds of desktop and server systems, touted an upcoming 28-core Core X-series aimed at workstations, gamers, and other high-end desktop gear. One was demonstrated at the Computex trade show in Taiwan, apparently overclocked to 5GHz with a rather large and impractical liquid cooling system. It is expected to cost a couple of grand when it goes on sale this year.
Chipzilla was otherwise schtum on the processor's specifications, for now, although it sounds close to a Xeon Platinum 8180.
Intel also said it would this year emit a 14nm six-core 5GHz Core i7-8086K to celebrate the 50th anniversary of the company's existence.
Thunder stealing
Then on Tuesday, also at Computex, AMD announced the 12nm second-generation Ryzen Threadripper – based on its x64 Zen+ architecture – which will have up to 32 cores and 64 hardware threads.
Before the Ryzen family of chips hit the market in 2017, Intel was happy shipping processors with six, eight or 10 cores for high-end desktop computers. Then AMD put together the first-generation Threadripper, a 16-core part for high-performance PCs, and Intel upped its game by offering 18 and now 28-core processors for top-end desktops. And AMD's just turned it up to 32.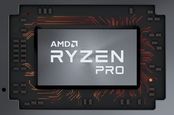 Cheap-ish. Not Intel. Nice graphics. Pick, er, 3: AMD touts Ryzen Pro processors for business
READ MORE
The Threadripper 2 has four active Zen+ silicon dies inside connected via AMD's Infinity Fabric. The component is part of AMD's second-generation Ryzen series, which builds on the launch generation with faster clock speeds, reductions in memory latency, and so on. The chip is backwards compatible with Threadripper 1 sockets, but you may well want to get an updated X399 motherboard that can pump enough power to the processor.
Whether Intel was trying to spoil AMD's announcement, or vice versa, it doesn't really matter: what matters is that someone is putting pressure on monopoly giant Intel, forcing it to innovate in the desktop world rather than burn millions of dollars on trendy side projects it later abandons or neglects.
AMD is seemingly having fun turning the screws on Intel – one of its ad slogans at the moment is Intel's "Xeon was great. So was coal." Its Epyc server parts are also going into Cisco's UCS boxes.
And expect 7nm second-generation "Rome" Epyc processors to land in volume in 2019, and 7nm Radeon Instinct Vega GPUs to go on sale this year for data center machines and artists with workstations. Gamers can get their hands on 7nm Radeon graphics chips next year, we're told. ®