A study published today by the Pew Research Center has found that a majority of Americans reckon that staying on top of the space pile should be a US priority, with NASA still attracting a lot of love.
However, party poppers are unlikely to be fired within NASA's scattered spaceflight centres since the idea of putting boots back on the Moon or on Mars doesn't attract quite the same levels of affection.
While previous studies, like this one by the National Science Board, found that 25 per cent of Americans felt too much was spent on space exploration (45 per cent said it was OK and 21 per cent wanted more), the new research focussed on where US citizens think space priorities should lie and who – NASA or the private sector – should be doing the work.
The good news for space fans is that 72 per cent of the 2,541 sample reckoned that the US should maintain its position as a leader. A whopping 80 per cent reckoned that the $100bn or so (some estimates put the figure nearer $150bn) spent on the International Space Station (ISS) had been a good investment. Finally, 65 per cent said they see a role for NASA in the future of space exploration.
Less good news for NASA's colossal human spaceflight budget is that while 58 per cent of Americans think astronauts are essential in spaceflight, a large minority of 41 per cent think robots could do just as good a job. Robots, of course, do not require all the plumbing to keep fleshy meatsacks alive and so are generally more cost effective, if less glamorous, to send to space than crewed missions. Robots would also be unlikely to forget the SD card for their cameras.
Private companies, such as SpaceX and Blue Origin, get a mention with 44 per cent of respondents having a great deal of confidence that the companies will eventually make a profit. That figure drops to 26 per cent when asked if the spacecraft produced will be safe and reliable (although to be fair the majority are pretty sure things will be OK).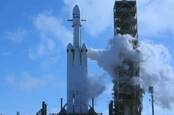 No Falcon Way: NASA to stick with SLS, SpaceX more like space ex
READ MORE
That number goes some way to explaining why – even though half of those surveyed thought that space tourism would be routine within 50 years (for context, it is nearly 50 years since the Apollo lunar landings) – more than half would not be interested in strapping themselves to one of Musk's mighty missiles.
Reasons of cost, age and, well, it's just too damn scary, were trotted out.
Interestingly, a majority of millennials were the most keen to head out into space, doubtless to enjoy an avocado in orbit or to simply escape the mess left by Generation X and the Baby Boomers.
In terms of where NASA should spend its hard-fought tax dollars, it is hard to avoid America's political divisions with 78 per cent of Democrats listing climate monitoring as a top priority compared to 44 per cent of Republicans. Cross-party support exists for looking out for asteroids, but an adventure back to the moon elicits little excitement, with only 16 per cent of Republicans listing going to Mars as priority while just 11 per cent of Democrats see the moon as a fun place to go.
As for the future, a trend is emerging. Those who follow space news are quite evenly split on whether NASA actually needs to be involved, or if the private sector will make more progress (55 to 45 per cent respectively). The majority of those less bothered with following the machinations of the space sector still see a need for NASA, which is reassuring for the agency.
However, with ever more private sector involvement in NASA's missions, including lunar exploration, the ground is shifting beneath the agency as it prepares to celebrate the passing of 50 years since the glory days of Apollo. ®
Similar topics