It's question we've all asked ourselves: what should I do with that spare $600,000?
Well, if you're a fan of computers and especially if you're an Apple fanbois, we have answer for you: buy one of the very few Apple I computers that still exist.
Bids have opened in an auction on the extremely rare computer – the first built by Steve Wozniak and Jobs in Jobs' parents' garage – and it ends in just 15 days, on June 21st. The current highest bid is a mere $70,000.
Only 200 Apple Is were ever made, 175 of them made it out into the market and of them only 60-70 are still thought to exist. This one is 01-0060 and it is a piece of computing history. The circuit board was actually laid out by hand, with each tape bent individually, and it is estimated to be worth $600,000.
If you really want to get into the details, it was one of the Apple Is that was sold to the Byte-Shop in 1976 – arguably Apple's first sale and the start of a computing revolution.
It was bought by Adam Duston – who actually bought two of them – and contains the original Apple I board, a modified Apple II keyboard, a Sanyo video monitor, and a modern Stancor power supply. Duston sold it in 1996 to LCF Group and they are now auctioning it off. It's been given a 7.0 out of 10 board condition rating by Apple restorer Corey Cohen.
If that is a little too expensive for your tastes though, why not splash on another piece of first generation Apple computing history for a much lower price.
Worth every cent
That's right, for just $10,000 you can get your hands on an equally unusable piece of technology but one that is much more modern: a first-generation Apple Watch Edition.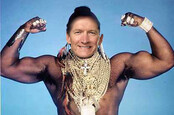 Hungry Apple fanbois can now buy a lunch date with Tim Cook
READ MORE
These watches were launched with a big splash just three years ago. Apple told the world it was going to take on the luxury watch market and handed them out to celebrities in order to build buzz among, er, celebrities that get free gear.
Unfortunately, people that are willing to spend $10,000 or more on a watch decided they would stick with the existing offerings that are masterpieces of engineering and can be expected to last multiple lifetimes, rather than an overpriced piece of black glass.
And it turns out they were right to because the watches will soon become somewhat obsolete thanks to Apple's latest watchOS update.
That's right, watchOS 5 will not support the original Apple Watch models so come September they will serve as little more than lasting testimony that for every product that Apple gets right – the Apple II, the iPod, iMac, iPhone – it also gets some horribly wrong – Apple Lisa, Pippin, G4 Cube. ®