Automation won't take your job until the next recession threatens it
Economics boffin says we're just playing with AI now and the payoff is years away
Good news! Automation capable of erasing white collar jobs is coming, but not for a decade or more.
And that's also the bad news because interest in automation accelerates during economic downturns, so once tech that can take your job arrives you'll already have lived through another period of economic turmoil that may already have cost you your job.
That lovely scenario was advanced yesterday by professor Mirko Draca of The London School of Economics, who yesterday told Huawei's 2018 Asia-Pacific Innovation Day 2018 that the world is currently in "an era of investment and experimentation" with technology. The effects of such eras, he said, generally emerge ten to fifteen years in the future.
Innovation in the 1980s therefore sparked the PC and internet booms of the mid-to-late 1990s, and we're still surfing the changes they unleashed.
"Our current era of mobile tech doesn't measure up to the radical 1990s," he said, as shown by the fact that productivity gains appear to have stalled for a decade or more.
Draca's not sure that low productivity growth is as much of a worry as some suggest because he thinks that the way we measure economic growth may not be good at assessing the impact of new technologies.
"There are aspects of GDP growth that are missed in the way we measure the economy, like improvement in convenience" from services delivered to smartphones, he said. But he also said that "Even with the most generous assessment of mis-measurement we cannot explain the slowdown in productivity since the mid-2000s."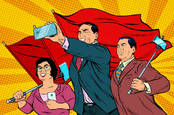 Chinese president Xi seeks innovation independence
READ MORE
Draca said things should get better because innovation and productivity growth are cyclical.
"We predict that AI and robotics will lead to some sort of productivity surge in ten to fifteen years," he said, adding that there is "no clear evidence" that a new wave of technologies that threaten jobs has started.
But he also said that it will once businesses see the need to control costs.
Huawei used the innovation day to announce it's signed a new memorandum of understanding with the government of Thailand. The agreement will see it continue to operate its Open Lab in Bangkok and assist the Thai government, and local enterprises, to innovate.
Huawei has no particular goal for that effort, which it sees as a long-term investment in Thailand and the region (and its own prospects there).
Thai deputy prime minister doctor Somkid Jatusripita told the event that he welcomes Huawei's presence and assistance, and hopes it accelerates collaboration between government, universities and private enterprise because the nation needs a "Focus on growth creation, not just politics and things that are not creative for transformation of the country."
Doctor Jatusripita mentioned transforming the nation's agricultural sector to be more than a source of cheap produce and labour as one hoped-for outcome from working with Huawei.
He did not mention that Thailand is currently under military rule and that while elections have been promised by February 2019, four previous deadlines for elections have passed without a poll taking place.
Huawei's also announced a South East Asia Developer Plan that will see it spend US$81m in the region, add a new Open Lab in Delhi, India, and offer developers up to US$15,000 of assistance for projects by giving vouchers for training in cloud technologies, access to its app store and time working with the Open Labs. ®