Updated After a day without service, Comcast has suggested its business voice customers restart their modems if they're still having connectivity problems.
The American comms giant has been trying to recover from a voice service outage that began on Wednesday morning and has affected customers in cities across the States.
Downdetector.com shows subscribers in San Francisco, Seattle, Denver, Salt Lake City, Albuquerque, Houston, Chicago, Detroit, Atlanta, Tampa, Miami, Philadelphia, New York and Boston, and elsewhere, have struggled with phone calls.
"We'd like to apologize again to all of our Comcast Business Voice customers for any interruption to your business this may have caused," the telco said on Wednesday, around 1400 Pacific Time. "We have all available resources working to restore service to customers still affected. Check back soon for more details."
As of 0700 Pacific Time on Thursday, the cable and data giant said service had been restored for most customers, but "a small group continues to see issues."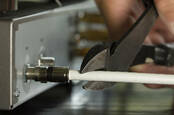 Open Internet lovin' Comcast: Buy our TV service – or no faster broadband for you!
READ MORE
By 1000 Pacific Time, the story was similar: via Twitter the company said, "Outage Update: We are aware of an issue that some customers may be experiencing. All available engineers are looking into and addressing the situation. We'll be back with an update to our customers in 30 min."
Small businesses denied phone service have taken to telling their customers to contact them via mobile phone or email, or to stop by in person to make an appointment.
Some are expressing their frustration via social media. A number of complaints scold Comcast for lost revenue while others criticize the company for poor support. A meal service for the elderly even suggested its inability to communicate in the event of an emergency could cost lives.
Asked to elaborate on the cause of the outage, the comms biz did not immediately respond. ®
Updated to add
Comcast has sent us the following statement:
We appreciate our customers' patience and apologize. Our engineers identified the issue and have restored services for Comcast Business Voice and Voice Edge Select customers. We are continuing to actively monitor this and are fully investigating the root cause, but our first priority is to ensure all customer services are working. If any customer continues to experience issues they should reach out directly.