The storage market was hot, hot, hot in the first quarter of this year – according to IDC's bean counters, who reckoned shipped capacity rose 79.1 per cent, year on year, to 98.8EB and revenues 34.4 per cent to $13bn.
All-flash array sales jumped past disk arrays, and white-box manufacturers' storage revenues rose an astonishing 80.4 per cent as buyers in hyperscale organizations sucked in machines like thirsty drinkers chugging shots on a Friday night bar crawl.
We've already heard that hyperscale outfits – the big cloud giants, such as Google, Amazon, Microsoft, Facebook, Baidu, etc – can't buy processor chips fast enough to fill their warehouses. Right now, they're devouring boxes for data storage, too.
The tabulated total storage market numbers show Dell pulling ahead of Antonio Neri's HPE – the latter stopped supplying low-margin systems to hyperscalers. The figures also show IBM falling further below NetApp and Hitachi: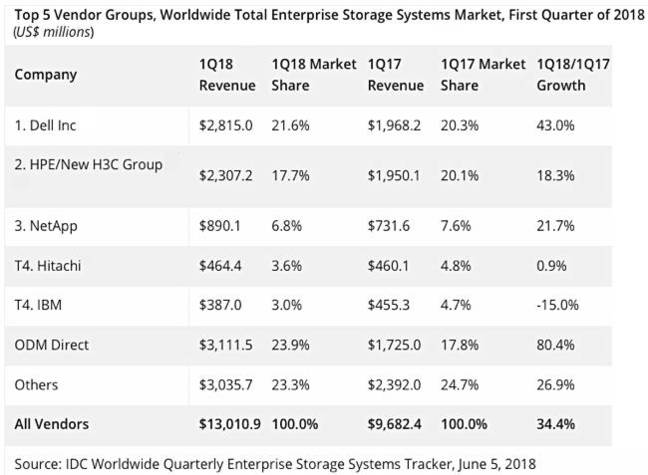 IDC's total storage revenues for Q1 2018 ... Click to enlarge
Just looking at external storage revenues – the attached SANs, filers, backup arrays, and object stores – Dell is by far the largest supplier with a 32.9 per cent revenue share of $2.06bn, more than twice second-placed NetApp's $890m and 14.2 per cent share. Dell grew at 44.6 per cent with NetApp managing 21.7 per cent.
Both outgrew this part of the market, which increased 19.3 per cent to $.36 Bn. IBM in fifth place saw its revenues tumble 17.3 per cent year-on-year. HPE undergrew the market with 9.4 per cent growth and Hitachi saw just two per cent growth: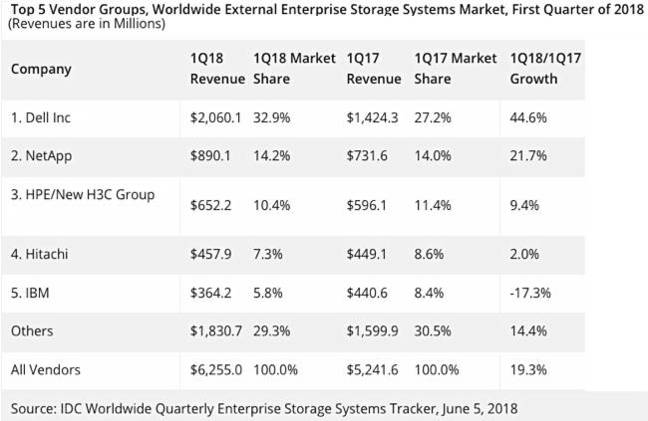 IDC's total external enterprise storage revenues for Q1 2018 ... Click to enlarge
IDC's numbers show that the external market grew more slowly than the total storage market, showing the dominance of direct-attached storage in hyper-converged systems and in the hyperscaler storage buying.
Eric Sheppard, IDC's research veep for server and storage infrastructure, said: "This was a quarter of exceptional growth that can be attributed to multiple factors. Demand for public cloud resources and a global enterprise infrastructure refresh were two important drivers of new enterprise storage investments around the world."
The analysts noted the total all-flash array market generated $2.1bn in revenue during the quarter, up 54.7 per cent year over year. Aaron Rakers, a senior analyst at Wells Fargo, said all-flash storage sales surpassed disk-only external storage revenues for the first time in this quarter. ®
Similar topics