If you're NetApp-y and you know it, clap your hands. If you're app-y and you know it...
FlexPods get application layers, managed service – and more
---
NetApp is adding application layers to its FlexPod stack, and developing a managed service version.
Flexpod installations typically integrate Cisco UCS servers, Nexus switches, MDS directors, and NetApp ONTAP boxes, such as the A300 and A700 all-flash and hybrid (flash-and-disk) storage arrays.
Now, FlexPod is going vertical, with the first app added to the stack being healthcare software Epic EHR. This is a suite of components that each lend themselves to various different FlexPod configurations, which can all be clustered together to form one coherent system.
The FlexPod Datacenter for Epic EHR deployment guide details its architecture with five distinct clustered modules: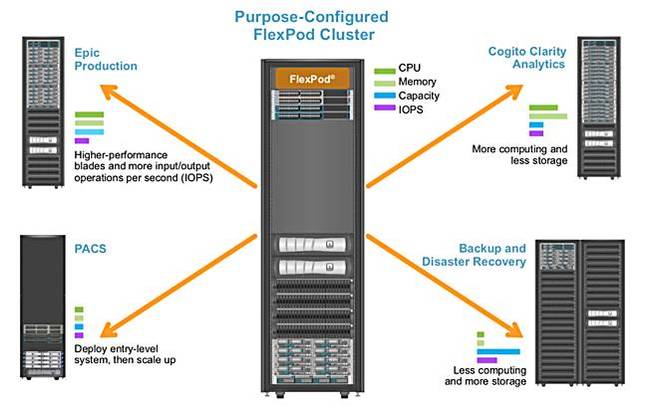 Epic EHR architecture ... Click to enlarge
NetApp said there will be more applications layered onto FlexPods in the future.
Meanwhile, updated FlexPod designs for desktop virtualization – think Citrix XenDesktop and XenApp, and VMware Horizon View – and Microsoft SQL 2016 are available. NetApp and Cisco have also refreshed their FlexPods for vSphere and Hyper-V environments with newer Cisco UCS and ACI technologies and NetApp all-flash FAS (AFF) storage.
Customers needing business continuity can use NetApp's IP-based MetroCluster with Cisco ACI to form a single fabric bridging active-active data centers.
To lessen the financial pain of buying FlexPod gear, customers can also pay as they go, with a managed service offering called a FlexPod Managed Private Cloud. The kit is sold worldwide by channel partners. The first ones are Dimension Data, ePlus, Proact, and Microland, with more coming.
Visitors to Cisco Live conference, in Orlando, Florida, USA, held between June 11 and 14 this year, can see the new FlexPod kit. ®