A-Qumulo-ate: Scale-out filer startup funds-slurp hits $230m
Data bloat antidote hopeful pockets $90m in investor cash round
---
Commercial scale-out filesystem startup Qumulo has scored $93m in a D-round of funding, taking the total raised past $233m.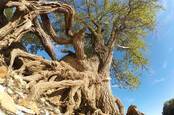 Walk with me... through a billion files. Slow down – admire the subset
READ MORE
The over-subscribed round for the Seattle data storage biz was led by BlackRock, with strategic investment cash from Goldman Sachs and Western Digital, and follow-on investments from all major existing investors – Highland Capital Partners, Kleiner Perkins Caufield & Byers (KPCB), the Madrona Venture Group (where Qumulo CEO Bill Richter is a venture partner) and Valhalla Partners.
The filer firm launched in 2012 and took in $26.8m in 2013. Further funding news was absent until 2015, when another $40m came in, followed by $32.5m in 2016 and another £30m in 2017.
Now we get a monster $93m. What's the cash going to be used for?
Qumulo said the capital will be used for geographic expansion, more engineering staff and facilities, and a buffer of cash for the future.
The firm, which claims to have grown its revenues at a triple-digit rate, said its customers include nine of the top 10 Hollywood film studios, a bunch of Fortune 500 companies and, it has boasted, three of the five largest companies on Earth.
We reckon that, if this growth rate carries on, a Qumulo IPO will be a near sure fire bet in 2019/20 as the VCs look for an exit route. ®