This article is more than 1 year old
watchOS 5 hints at new Apple wearables and life beyond the Watch
The web on your wrist... and elsewhere
Analysis Features introduced in the latest version of Apple's wearable OS suggest Apple wants to produce more sophisticated small computing devices and avoid getting embroiled a straight fight with fitness trackers.
That's a reasonable strategy, for the killer features of the Apple Watch so far have turned out to be not apps, not payments, and not phone calls, but ... waterproofing.
When Apple brought the first Watch to market in 2015 it came in 20 versions. Apple wasn't sure who this would appeal to, but segmented the market into three: regular, a cheaper aluminium-cased sports edition and a limited edition gold model (Apple Watch Edition) for conspicuous consumers, costing upwards of £8,000. Apple's sweet spot, you can now tell, was the regular Watch, which had a Sapphire display, a steel case, and leather or steel straps for $549 (£479) or $599 (£519).
But you couldn't swim, or even sweat too much, in the Apple Watch Sport. Interest only really took off in 2016 with the Watch 2 waterproofed up to 50m. Apple's buy page for the Watch today gives an indication of what the market wants. If you look at the first 20 watches, all have a sports band. The first non-sports band is several moments of scrolling down: the £1,299 "Stainless Steel Case with Noir Gala Leather Single Tour Rallye". The mid-range steel model with a leather band has all but disappeared. Even the £1,299 ceramic models come with a sports band.
Smartwatches hogged the tech headlines throughout 2014 and 2015 but by the end of 2015 both Apple and Google had launched their smartwatch platforms... and got nowhere. Tim Cook was still protesting negative reports a year later.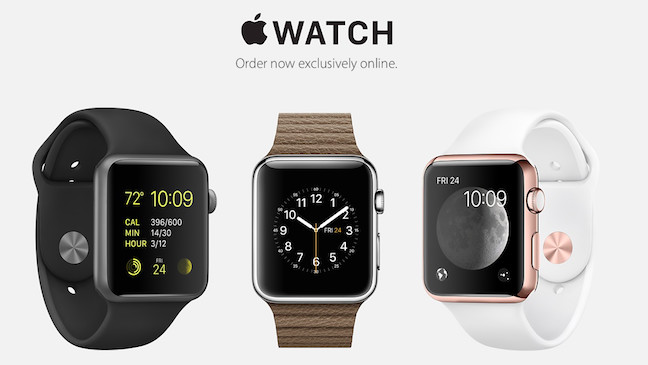 The original 'Buy' page at Apple from 2015. The middle option is now hard to find while the one on the right has been discontinued. Click to enlarge
But the Watch became the turkey that flew because of its newfound utility for health, fitness and sport. Word got around that the smaller, cheaper aluminium Watch was just as good as the one nearly twice the price, and wow, you could use it for swimming and running. There seemed little point getting the heavier steel Watch, so the Sport is the one that won out.
However, fitness electronics is a commodity game, something implicitly recognised by Apple with watchOS 5 this week. While fitness and sport suit Apple today, Apple doesn't want to be in the wearables space for very long, because as a high margin, high quality engineering and design company, budget wearables don't really play to its strengths. To win in the "cheap tat" end of consumer electronics, it's about winning at logistics and distribution and pricing, and shaving costs at all cost. This is not somewhere Apple wants to be at all.
watchOS 5 is the first Apple wearable OS to support webkit, so web content can be viewed. Not well, mind, the display is tiny. But in introducing the feature Apple has one eye on the future.
Here's a useful summary of what a web developer needs to know, when they're targeting a 320x357 (CSS pixels) display. It's pokey and limited and for now is really intended to display HTML emails and not much more. But it's a start.
(A smaller tweak introduced in the watchOS beta is accessing the settings form within an app – which you may want if a device doesn't have buttons, say.)
So where next?
I don't expect Apple to make a dramatic entry into the digital Teasmade business – yes, they still make Teasmades. But watchOS in a more sophisticated – or portable – HomePod makes a lot more sense. So does increasing the Apple offering to auto manufacturers. Both would benefit from a low-power embedded OS that does a lot more, with HTML content a key part.
That process really became public this week. ®