This article is more than 1 year old
Android users: Are you ready for the great unbundling?
EU mulls untangling giant vampire squid from your phone – report
It's June, so it must be the season to fine Alphabet billions of euros. According to Reuters' sources, a second big fine will be imposed on Google's parent company next week by the European Commission, this time for abusing its dominance of smartphone platforms.
In addition to the fine, the newswire reported, the Commission will oblige Google to remove restrictions on competitive apps, giving European rivals an advantage they don't currently enjoy.
Reuters journalist Foo Yun Chee noted:
The EU competition enforcer will also tell Google to stop its anti-competitive practices such as licensing deals which prevent smartphone makers from promoting alternatives to apps such as Google Search and Maps.
The allegations closely resemble the US authorities' scrutiny of Microsoft for bundling Internet Explorer with Windows in the 1990s. That too led to a then-record EU fine.
The Commission sent a formal Statement of Objections to Google in April 2016 on three grounds, all relating to Android. Google argued at the time to that the open-source OS was a bid to "stimulate innovation and increase choice for consumers".
Competition officials alleged that Google had required manufacturers to pre-install Google Search and the Chrome browser as a pre-condition of licensing Google apps they actually wanted. Secondly, Google stopped OEMs from running open Android devices (based on Android Open Source Project, the open source base). And thirdly, they alleged financial incentives were given to operators and phone-makers to pre-install search.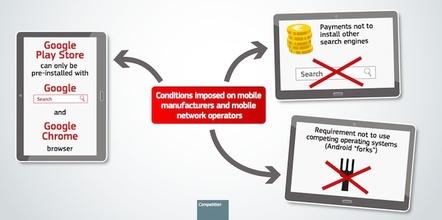 Source: European Commission
Google enforced these through an "anti fragmentation agreement", by which they promised not to produce devices running forks of Android.
The Commission had probed the relationships between Google and OEMs for several years, and hit a brick wall. At one stage it had to threaten phone makers with fines unless they produced the contracts competition officials wanted to see.
We have contacted both Google and the Commission for comment on the report. ®