US regains supercomputer crown from Chinese, for now
America! FLOP yeah!
The US is set to regain the crown for world's fastest computer – for the first time since 2012 – with the unveiling of the Summit supercomputer.
Summit is capable of an extraordinary 200 petaFLOPS (200,000 trillion calculations per second) and will leapfrog the current fastest supercomputer, the Middle Kingdom's Sunway TaihuLight which has been clocked at 125 petaFLOPS.
If Summit performs as its handlers say it can, it should jump straight to the top slot of the Top 500 supercomputer ranking, which is calculated twice a year in June and November. Here's the most recent November 2017 list.
At Friday's unveiling ceremony of Summit Oak Ridge director Thomas Zacharia said that during testing the computer had already broken an extraordinary record: a mind-blowing 1.88 quintillion calculations per second. "This is the first time anyone has broken the exascale barrier," Zacharia told attendees.
The American upstart is based at the US Department of Energy's Oak Ridge National Laboratory (ORNL), which is in the middle of nowhere in Tennessee. Summit will provide 5-10 times the computational firepower as the current fastest American supercomputer, Titan, which is also based at Oak Ridge and comes fifth in the list.
Like Titan, Summit has a hybrid architecture with each of its 4,600 nodes containing multiple IBM Power9 CPUs and Nvidida Volta GPUs, connected together with Nvidia's NVLink. Each node will have half a terabyte of memory. In short, it is awesome.
Summit will be used for machine and deep learning, as well as research into clean energy, advanced materials, neutrons and nuclear science. There is a video walking through what will be possible on Oak Ridge's newest supercomputer.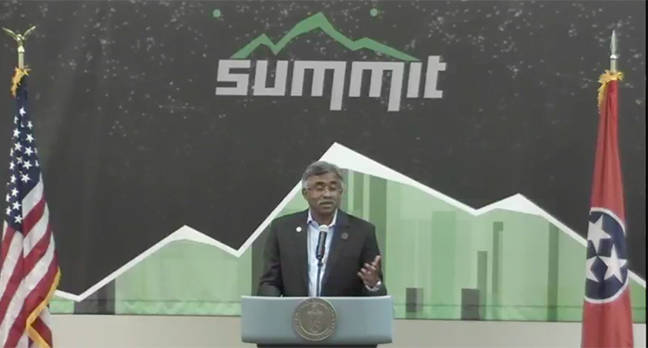 Oak Ridge director Thomas Zacharia unveils Summit
Unveiling
At the official unveiling on Friday, Secretary of Energy Rick Perry, Tennesse governor Bill Haslam and Oak Ridge director Thomas Zacharia talked about how both science and society will benefit from the new supercomputer.
"Summit has the ability to calculate 30 years of data saved on a desktop computer in one hour," Secretary Perry summed up. "Summit is going to impact people's lives."
The list of the world's top supercomputers is both ridiculous and inspiring at the same time. It drives the world's best computer scientists and companies to keep developing new technologies in an effort to built ever-faster computers, and in doing so keeping pushing the envelope of what is possible.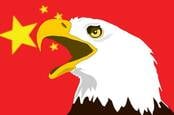 China looks set to pip Uncle Sam at the post in exascale computer race
READ MORE
Despite its long history of cutting edge computing, the US has in recent years been repeatedly surpassed by China: China currently boasts the two fastest supercomputers in the world (Sunway TaihuLight and Tianhe-2). Third is Switzerland's Piz Daint and fourth is Japan's Gyoukou. The United States then has the next four largest supercomputers, and Japan the last two, rounding out the top ten.
As excited as American computer scientists are at regaining the top spot however, it is unlikely to last very long. China is working on Tianhe-3, due in 2020, which should offer exaFLOPS for the first time. The US answer to that effort, the Cray/Intel Aurora A21, is expected in 2021. Zacharia said he was confident US scientists would be able to hit that milestone.
And so the race continues. ®