Facebook and Snap are pushing to have the patents behind Blackberry's massive infringement suit invalidated and thrown out.
The two companies last week both filed (PDF) motions to dismiss their respective cases on the grounds the four patents cited by Blackberry in its complaints were invalid for use in court.
Blackberry filed the cases against both social networks earlier this year, claiming each was infringing on patents it holds around the design and operation of mobile services such as tracking, pushing information to a device and previewing new content.
Arguing that both companies have been infringing on its patents for years without paying, Blackberry is seeking a jury trial determine damages or (more likely) a licensing deal be struck before the case gets that far.
Facebook is challenging four of the nine patents cited in the complaint, while Snap is looking to toss out four of the six patents cited in Blackberry's original complaint. Between the two motions, a total of six Blackberry patents would possibly be invalidated.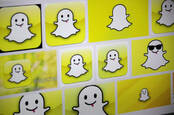 Blackberry snaps, yakkity-yak Snapchat app brats slapped with patent trap rap
READ MORE
Both of the motions ask the court to apply the standard established in Alice vs CLS Bank, an infringement case that has become the basis for testing whether a concept is specific enough to warrant a patent.
According to Snap and Facebook, the six patents at issue all cover vague concepts or ideas that fail to meet the "Alice" standard for validity. Further, they accuse Blackberry of trying to slap a patent on everyday operations that are performed on a mobile device.
"Blackberry's patents are directed to the abstract ideas of time stamping, locating and mapping activity, counting the number of people who have sent you unread correspondence, and time/location-based advertising," argues Snap.
"Each of these abstract ideas has been performed by humans in common practice long before Blackberry filed its patent applications."
Facebook, meanwhile, looks to use Blackberry's own past statements against it.
"Four of Blackberry's patents are directed at ineligible ancient communication concepts — who gets a message, how it is sent, and the manner of notification. None of the patents solve a specific technological problem. Rather, they take abstract concepts and apply them "on a computer," reads the Social Network's motion to dismiss.
"This is not enough to be patent-eligible. Blackberry, when acting as a defendant in other courts, has perhaps said it best — 'appending generic devices to otherwise abstract ideas is not a magic bullet'."
Blackberry has yet to file a response to either motion. Both cases are being heard by the Central California US District Court in Los Angeles. ®
Similar topics