HPE's all-flash array market share slumped in the first 2018 quarter, and Pure Storage – something of a bellwether because of it was one of the original flash startups – saw its share shrink a tad too.
Both of them saw significant rises in revenue, however – along with the rest of the all-flashers – of 16.6 and 45.2 per cent respectively.
While it has been a bonanza quarter for storage generally, the total all-flash array market saw an uplift of 54.7 per cent year over year, raking in $2.1bn in revenue, according to analysts.
Wells Fargo senior bod Aaron Rakers said all-flash storage sales surpassed disk-only external storage revenues for the first time in this quarter. The analyst has seen IDC's detailed numbers (not available publicly) and flagged the highlights.
IDC gave HPE just 11.1 per cent market share versus 15 per cent a year ago – and it looks like Dell EMC, which jumped up to 34.2 per cent from 28 per cent in Q1 of the previous year, ate the difference and more.
Here are the showings of the other vendors:
NetApp: 26.1 per cent – compared to 25.3 per cent a year ago;
Pure Storage: 11.2 per cent - it had 11.9 per cent a year ago;
IBM: 5.6 per cent vs 8.5 per cent a year ago;
Hitachi: 3.2 per cent vs 3.5 per cent 12 months ago; and
Huawei: 1.1 per cent vs, er, zero a year ago.
Here are the other available product and vendor ship numbers: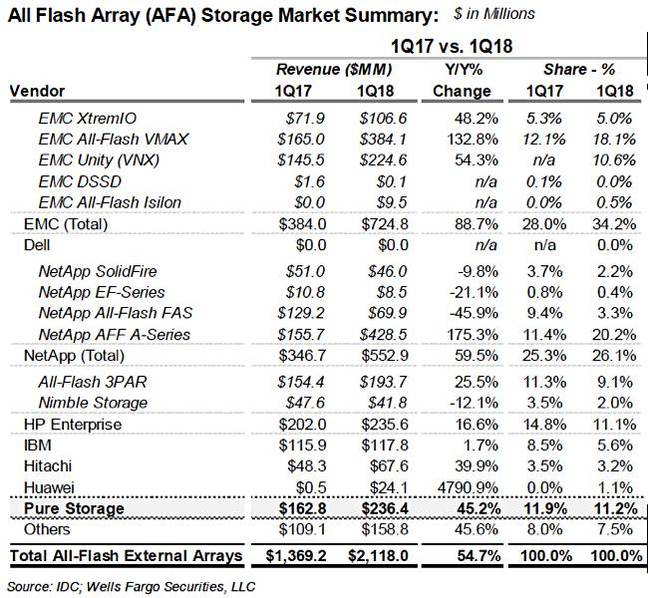 They show HPE's 3PAR AFA revenues rising from $154.4m a year ago to $193.7m this year, while its $1.2bn acquisition Nimble's AFA revenues went backwards from $47.6m a year ago to $41.8m in 2018's first quarter.
It's interesting that NetApp's SolidFire AFA revenues declined from $51m a year ago to $46m in the first quarter and its EF-Series revenues declined from $10.8m to $8.5m over the same period. However, NetApp's A-series showing helped win it a 59.5 per cent uptick in revenues from the year-ago quarter as well as hang on to its market share. ®
Similar topics