First A380 flown in anger to be broken up for parts
Owner can't find anyone to fly the thing profitably
On October 25th, 2007 Singapore Airlines flight SQ380 departed Changi Airport bound for Sydney, Australia, marking the first commercial flight of the Airbus A380. But the plane that made that flight won't ever take to the air again and will instead be broken up for parts.
The A380, airframe number MSN003, wasn't Singapore Airlines property: the carrier leased it from German investment concern the Dr. Peters Group for ten years. That lease expired in late 2017 and Dr. Peters therefore took possession of the plane and tried to find someone to operate it.
Without success: Dr. Peters tried to do lease deals with British Airways, Portuguese charter airline Hi Fly and Iran Air, but couldn't strike a deal on terms it liked.
The company has therefore announced that it will sell the plane's parts.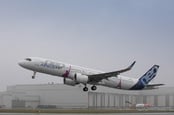 Long haul flights on a one-aisle plane? Airbus thinks you're up for it
READ MORE
"The main reason … is that many airlines currently using the A380-800 will have a high demand for individual replacement components due to upcoming maintenance intervals," the company's announcement says, explaining that selling parts will deliver a better outcome to its investors than either a lease or sale of the plane and another early A380 Singapore Airlines sent back.
Dr Peters CEO Anselm Gehling said "The market for the A380-800 aircraft type has not developed positively in recent years."
"Some airlines have cancelled orders from Airbus, while others have opted for smaller long haul jets. Finally, the ongoing negative discussion about the A380-800 has not led airlines to increasingly rely on this type of aircraft. In light of this development, the concept that has now been finalised is an excellent achievement with a total revenue forecast of around 80 million USD per aircraft."
Gehling said the landing gear and auxiliary engine should sell quickly and Dr. Peters investors' should see a return in early 2019.
Airbus came close to ending production of the A380 earlier this year, but an order for 20 new planes by Emirates saved it until the early 2030s.
But the future looks grim for the plane. Boeing will soon just-about-match its capacity with the 777x, challenging the A380's selling point as the ideal plane for super-busy airports where landing slots are scarce.
The plane's also in trouble in other roles as the Boeing 787 and Airbus' own A350xx can match it for range and beat it for fuel economy. The rise of long-range single aisle planes like Airbus' own A321LR is also changing the market by making point-to-point flights easier, while Boeing's "NMA" aims to do likewise with a mid-sized twin-aisle jet that makes the A321LR look cramped and cheap.
At least there's a decent market for A380 parts, as without that demand the first one flown in anger might already be en route to a boneyard rather than an aerospace transplant ward. ®