Trump kept ZTE alive as 'personal favour' to Chinese president Xi
Company goes from rogue security risk to bargaining chip
US president Donald Trump did the deal to keep telco kit provider ZTE in business as a favour to Chinese president Xi Jinping.
So said Peter Navarro, who's in a position to know: he serves as assistant to the president, director of trade and industrial policy, and director of the White House National Trade Council.
Navarro revealed the favour in a Fox News interview on Sunday, in which he was asked "how do you explain the decision by President Trump to lift the sanctions against the Chinese telecom company ZTE after it had violated our sanctions, our ban on doing business with North Korea and Iran and was considered to be a serious national security risk? Why on earth would we do that?"
Navarro's responded by saying secretary of commerce Wilbur Ross would be a better source for insight on "the details of what is a very hard negotiation … that was done" but added the following:
The president did this as a personal favor to the president of China as a way of showing some goodwill for bigger efforts, such as the one here in Singapore.
"Singapore" is a reference to today's talks between Trump and North Korean dictator Kim Jong Un and "bigger efforts" is a reference to ongoing negotiations between China and the USA over access to each other's markets.
The USA effectively crippled ZTE by enforcing a seven-year embargo on it doing business with US companies for repeated violation of trade regulations. ZTE responded by putting itself into a corporate coma, until a deal saw the company submit to US demands that it pay a US$1.4bn fine, fire its board and allow compliance inspectors to crawl through its affairs 24x7.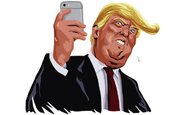 Prez Donald Trump to save manufacturing jobs … in China, at ZTE
READ MORE
Trump had previously vacillated between a desire to protect US jobs and using ZTE as a bargaining chip in trade negotiations.
Now it appears the US president is hoping his Chinese counterpart Xi Jinping will return the favour in some yet-to-be-revealed manner.
US companies bemoan the fact they are effectively locked out of investing in China, which also requires them to enter into joint ventures with local companies and expose their trade secrets. Easing either restriction would likely be welcomed in the USA and represent a policy and political win for Trump.
The US president claims he's a negotiator and people-reader without peer. President Xi's response to his ZTE gesture will go a long way towards proving those assertions. ®