Cisco, Lenovo see XPoint in slapping Optane drives on hyperconverged kit
Add some Nvidia support, and everyone else is on catch-up
---
Cisco and Lenovo have shoved Intel's Optane caching drives in their hyperconverged systems, and Switchzilla has also added Nvidia GPU support to grant AI/ML apps hyperconverged system access.
The Optane and NVMe drive injections are supposed to make these hyperconverged systems perform better than all-flash SAS/SATA SSDs and simply blow away disk-based alternatives. At least that is the thinking.
Cisco's HyperFlex HX220c M5 All NVMe node uses two Optane XPoint SSDs - the lengthily named Intel DC P4800X SSD. One is used for caching and a second for write-logging.
The HX220c is basically a UCS 1U C220 M5 rack server running one or two Xeon SP processors. It has up to eight 1TB or 4TB Intel 3D NAND NVMe SSD drives, meaning 32TB maximum capacity. Check out a datasheet here (PDF).
HyperFlex is classed by Cisco as ushering in a new era in hyperconverged infrastructure performance for the most latency-sensitive workloads. No system-level performance numbers have been provided.
Intel blogs about it here and Cisco also has words on the matter.
The Optane and NVMe SSD support is part of Cisco's HyperFlex 3.5 release. This also adds Nvidia Tesla V100 GPU support making HyperFlex suitable, Cisco says, for AI and ML applications. There is no specific HyperFlex Nvidia configuration in the datasheets (see here) but a Cisco blog shows an HX240c fitted with one or two V100s by Cisco partner ePlus.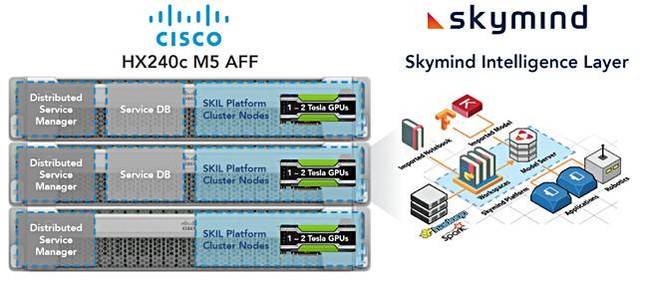 HyperFlex with Nvidia GPUs. Click to enlarge
The v3.5 release also has support for SAP applications, VDI deployment with Citrix Cloud Services and native DR capabilities.
The GPU and Optane/NVMe SSD support ought to make HyperFlex one of the two the fastest x86-based hyperconverged systems available, the other being Lenovo.
Lenovo's Optane outing
Lenovo has produced vSAN ReadyNodes based on its ThinkSystem server line fitted with Optane SSDs. The base systems are SR630 (1U/2-socket) and SR650 (2U/2-socket) Xeon SP servers.
It claims they have a more than 50 per cent increase in VM density, 37 per cent better price-performance and can run high transaction rate applications.
However, the only product information we have comes from a pretty useless blog with no product availability, naming and pricing information.
This post does show a VX Series picture, though: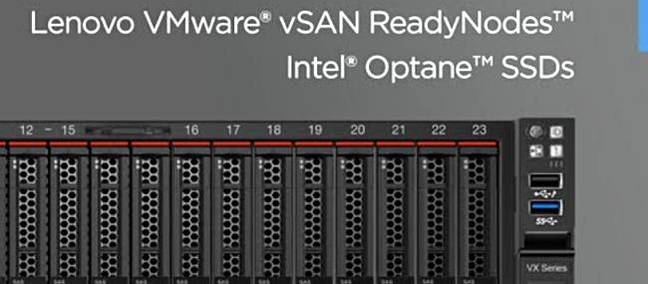 Lenovo's VX Series vSAN ReadyNodes are pre-integrated, pre-configured hyperconverged systems. At entry level the VX 2000 Series is for small and medium enterprises.
The VX 3000 Series are general-purpose 1U and 2U 1-node systems optimised for compute-heavy applications, such as VDI. VX 5000s are storage-dense 2U 1-node products optimised for email, big data, and analytics. High-end VX 7000s are 2U 1-node systems for databases and collaboration workloads.
The VX 3000s and a VX7520 can be all-flash configurations, but the current datasheet doesn't mention Optane. We've pummelled Lenovo with questions to find out more.
Optane-cached and NVMe flash drive-using hyperconverged gear is likely to have a big performance advantage over disk, hybrid flash/disk, and SAS SSD hyperconverged gear in storage access-centric workloads.
Dell EMC, HPE, and NetApp will, most likely, follow Cisco and Lenovo's lead and the hyperconverged software players will do what they need to add support for Optane caching and NVMe drives.
General hyperconverged support for GPUs may be later in coming but El Reg is pretty sure the main players will do me-too Nvidia support deals to prevent Cisco winning in RFP box-ticking terms. ®