This article is more than 1 year old
Docker seeks Golden State burnish for cloud container expansion
Plan for unification also includes making code easier to use
At its annual enthusiasm fest in San Francisco on Wednesday, software container popularizer Docker shifted from technical talk to evangelism with previews of product improvements and the usual Silicon Valley word salad about changing the world.
Golden State Warriors "Hype Man" Franco Finn arrived on stage at DockerCon to introduce CEO Steve Singh with far too much enthusiasm for the typically sedate group of command line twiddlers in the auditorium. Those who follow professional basketball might understand the reason for his presence.
Singh, an SAP veteran who took the helm at Docker a year ago, attempted to situate the company in the current tech landscape by enumerating what he claimed were Docker's core principles: choice, security and agility.
These principles could (and arguably do) describe the aspirations of many other software vendors. Try to imagine how well the opposite pitch would go over: "You'll do it our way, slowly, and then lose your data."
But Docker's designated differentiators become more meaningful in the context of the big news of the day: the planned addition of federated application management to Docker Enterprise Edition.
As Scott Johnston, chief product officer, explained in a phone briefing with The Register, "federated application management allows ops teams to deploy apps across different types of clusters but do so with a consistent UI, security and deployment model."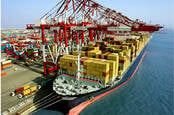 Docker enterprise kit gets cozy with Kubernetes
READ MORE
Docker, the company, has positioned Docker EE, its business product, as a neutral connective layer for the hybrid cloud, one that unifies the management of containerized apps in on-premises data centers and hosted Kubernetes-based cloud services, namely Azure AKS, AWS EKS and Google GKE.
To sweeten the deal further, it plans to add support for Windows Server containers on Kubernetes in Docker EE.
Docker sees its software as the one layer to rule them all, once the promised features arrive during the second half of the year.
It's a pragmatic vision now that talk of Docker being acquired by Microsoft, a subject of some speculation in 2016, has died down.
"Docker is squarely positioned for legacy app modernization," said James Governor, co-founder of consultancy Red Monk, after the keynote. "There's money in that."
A buyout in the future?
Governor said while he hadn't heard much recent chatter about Docker as an acquisition target, he found it hard to see the company remaining independent in the long term. Despite Microsoft's recent splurge on GitHub, he suggested the Windows-Office-Azure show might still see value in bringing Docker into the fold.
If Docker is to thrive as a stand-alone concern, it has to find a way to add value to Kubernetes-driven containerization of apps without being crushed by the larger players in the ecosystem.
The trouble is RedHat sees its OpenShift enterprise container management software in much the same way, particularly following its acquisition of CoreOS and its Tectonic software.
Docker differentiates itself by asserting that Docker EE is "the only enterprise-ready container platform that supports production-grade Linux and Windows containers and dual orchestration options with Swarm and Kubernetes across those mixed environments."
But RedHat doesn't need to support Swarm because Docker's homegrown orchestration tech has largely been eclipsed by Kubernetes.
Though not listed among its principles, Docker addressed a longstanding issue with its technology: ease of use. Those who have attempted to dockerize an app understand that the command line interaction is needlessly taxing.
To make container construction less of a pain, Docker product manager Gareth Rushgrove introduced template-based workflows for Docker Desktop.
The addition of a graphic interface for app deployment should make containers more approachable for developers who haven't yet mastered container-speak. And that should help burnish Docker's brand, which wouldn't be a bad thing amid its struggle to build its enterprise client list.
Docker is making its new software capabilities available to developers who sign up for a private beta test. Everyone else will have to wait until later this year for their choice, security and agility. ®