This article is more than 1 year old
Hybrid cloud's no fun, can't get nothing done – will Rubrik make you whole again?
That data-management-for-everything software segment's getting crowded
As enterprises increasingly adopt hybrid multi-cloud IT strategies, they tend to find themselves mired in a multi-silo data management nightmare. Rubrik has stepped up to claim it can make the fractured mess whole again with its Alta software.
Broadly speaking, Rubrik's Cloud Data Management Platform (CDM) supports Windows, Unix, Linux, NAS systems, VMware, AWS, Azure and GCP plus NoSQL databases like Cassandra and MongoDB. It provides backup and archive, and can furnish data for test and dev, analytics, DR, compliance, and search.
Alta, v4.0 of CDM, was introduced a year ago and included Hyper-V, Oracle RMAN and ASM and Nutanix AHV support.
Now we have v4.2, which extends both CDM's on-premises and hybrid cloud reach.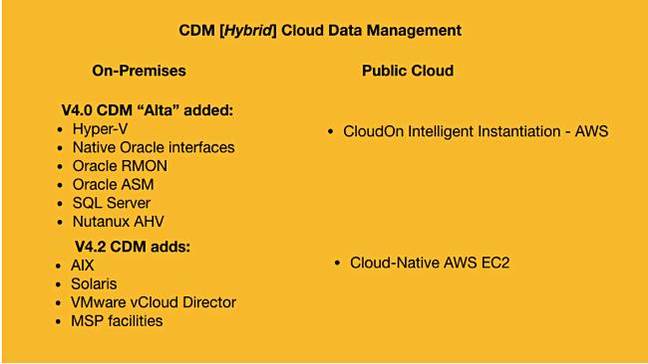 The idea is to protect everything, from new cloud-native apps to old-style proprietary operating systems, with one set of software and one control plane. The hybrid, multi-cloud adopters want a tech to move workloads between their on-premises and public cloud environments.
Rubrik will be hoping for take-up of its own AWS-like, self-service cloud offering.
With v4.2 Alta, AWS EC2-native backup and lifecycle management protects EC2 apps. Users can index, catalog, and protect any application running on EC2. Rubrik claimed it is possible to run everything on the cloud: production applications, source data, backup and recovery software, and archival storage.
The firm said Alta 4.2 also integrates with VMware's vCloud Director, which can create an on-premises cloud environment. It represents a Rubrik cluster in a tenant network, and enables self-service at tenant level.
It added there was a so-called Envoy service for MSPs and enterprises with co-hosted tenant users which supports self-service at the tenant level.
Alta also supports IBM AIX and Oracle Solaris environments and the company claimed this makes it easier for enterprises using these mature, old-style server operating systems to standardise on Rubrik and move their workloads to the cloud.
For Rubrik, Alta 4.2 means it can spread its net wider and catch more enterprise fish disillusioned with the difficulties and costs involved in looking after multiple hybrid cloud silos and applications for secondary data management. Businesses with that sort of IT indigestion can also turn to Actifio, Cohesity, CommVault, Druva, Rubrik, Veeam and others, including the object storage suppliers.
They're all competing in the hybrid cloud secondary data management land grab and Rubrik's Alta is just the latest instalment. ®