Further evidence that Microsoft wants to broaden the appeal of its boutique Surface hardware has emerged.
Almost a month ago, Bloomberg's Mark Gurman predicted budget Surface hardware was being planned, priced at "about $400... 20 per cent lighter than the high-end models, but [with] around four hours fewer of battery life".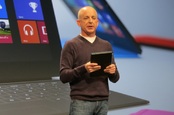 Microsoft returns to Valley of Death? Cheap Surface threatens the hardware show
READ MORE
Now Windows blogger Paul Thurrott has claimed to have seen a device roadmap, although he has been coy with the details. There's not much to add to the rumour mill, other than a low cost Surface ("Libra"), while the device product line contains a mystery device "Andromeda" scheduled for 2018. This has often been touted to be the "Surface Phone".
As we noted ("This could ruin everything, Panos") this threatened the nice, high margin business Microsoft has built with Surface. Surface Pro prices currently start at £749 for the i3 model (the cheapest i5 is £899), at the Microsoft UK store, and that doesn't include a keyboard or a pen.
Late 2018 should see the introduction of ARM-powered Windows, most likely with Snapdragon 850 hardware, creating a platform for a budget Surface (a reborn RT) and something in the new-and-interesting form factor category. The noteworthy aspect of the 850 is that it's cheaper, permitting lower-cost hardware:
"Any enthusiasm we encountered for the slabtop hardware was dampened by the prices: they were figures – starting from $600 to $800 – seemingly picked to match what early adopters and evangelists would be happy to pay, whereas your typical punter may not want to spend more than a few hundred quid on a Chromebook-like web-surfing machine," we pointed out after the Qualcomm announcement.
Crippling the hardware with Windows S could allow it to reach a mass-market low price point, but then the whole point of the x86-on-ARM initiative was so that legacy applications could run.
Patent applications for hinges, and dual flexible displays have led to speculation that Microsoft may introduce a device similar to the Lenovo Yoga Book, only more er, book-like. Intel recently showed a rigid dual-screen reference prototype - the gimmick being that one display is a low energy e-ink display. Intel has said the prototype achieves a 13- to 15-hour battery life.
Microsoft's patent anticipates a flexible book-like dual display, something more likely to attract attention – simply because it's different. ®
Similar topics