Cisco has opened up its network automation and analytics software, DNA Center, to all-comers.
Speaking at the company's Cisco Live conference this week, its networking and security GM David Goeckeler said access to over 100 APIs would be made available to developers as well as third-party software development kits (SDKs).
Its senior VP of product management, Sachin Gupta, said the decision was a logical one given the massive expansion of devices that will be connected to the internet in the next few years.
DNA Center makes it easier to automate a network through "intent based" programming that automatically decides which policies to apply to any given device, cutting back on the need for masses of custom code. The biggest advantage for most sysadmins is likely to be the built-in security that automatically detects abnormal behavior and flags it up.
The shift toward software from its traditional hardware business is Cisco's effort to stay current with modern networks as companies shift toward the cloud and deal with far more devices on their network.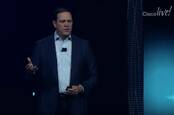 Cisco CEO Chuck Robbins preaches the cloud, but nothing new
READ MORE
Of course such a system is dependent on being able to talk to non-Cisco devices so the company also announced a range of partnerships with companies including IBM, HP Enterprise, Juniper and Presidio.
It also announced partnerships with application developers including Accenture, Dimension Data, Microfocus, ServiceNow and World Wide Technology.
The company also promised an upcoming app store that "will be as robust as Apple's" that will allow companies to develop and post applications to help manage a wider range of devices as well as add analytics and performance management. It should also, in theory, allow sysadmins to apply the same policies across their whole network – from datacenters to cloud networks.
Of course it's early days and while in theory such a system could become a huge time saver and well as, potentially, improve overall network security – especially if it is opened up in the way Cisco has announced this week – it may also make sysadmins reliant on others' code and potentially introduce more security vulnerabilities. Or become just another piece of software that requires as much maintenance and it saves. ®