This article is more than 1 year old
Thought the AT&T Time-Warner tie-up was scary? Comcast says 'hold my beer'
American cable giant offers $65bn for 21st Century Fox
With the massive $85bn merger between AT&T and Time Warner set to finalize, a newly-emboldened Comcast is pushing for a media mega-deal of its own.
The US cable kingpin officially made its offer on Wednesday to acquire 21st Century Fox in an all-cash deal worth $65bn. The deal would give Comcast all outstanding shares in 21st Century Fox at a price of $35 each. That price tops a standing offer Fox already has on the table from Disney.
While Comcast has made no secret of its desire to buy up Fox from the Murdoch clan, the chances of any deal actually going through were undercut by fears the merger would not be passed by government regulators.
Those fears subsided yesterday, at least in the eyes of Comcast, when a US district judge overruled the DOJ and declared that the AT&T-Time Warner deal could proceed without antitrust fears.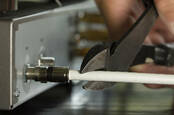 Open Internet lovin' Comcast: Buy our TV service – or no faster broadband for you!
READ MORE
Now, believing that deal will set a precedent, Comcast is pushing 21st Century Fox to take a close look at its offer.
"We have reviewed the publicly available terms of the proposed Disney transaction, as well as the joint proxy statement/prospectus filed with the SEC describing the reasons for the 21CF Board of Directors' decision," Comcast said in announcing its new offer.
"In light of yesterday's decision in the AT&T/Time Warner case, the limited time prior to your shareholders' meeting, and our strong continued interest, we are pleased to present a new, all-cash proposal that fully addresses the Board's stated concerns with our prior proposal."
In addition to the $65bn in cash it would spend to purchase the shares, Comcast is offering to put up a $2.5bn reverse termination deal should the merger fall apart. In addition the cable giant says it will reimburse Fox the full $1.525bn break-up fee it would owe Disney if Team Rodent's offer is turned down.
Fox is set to vote on the Disney acquisition proposal on July 10, when Comcast plans to ask shareholders to reject the bid in favor of its offer.
"We hope this is precautionary only, as we expect to work together to reach an agreement over the next several days," Comcast says.
A deal between Comcast and Fox would only further anxieties over a concentration of power in the US media markets as more cable and satellite TV providers are acquiring major networks and broadcasters. ®