This article is more than 1 year old
ICANN pays to push Whois case to European Court of Justice
Just has to lose GDPR rulings in other courts first
Risky business
ICANN then ran into trouble when its massive expenditures weren't covered by new income thanks to the organization's faulty projections of income from the new internet extensions. Revenue fell far short of expectations, ICANN was forced to recognize the budget shortfall and so it proposed cuts to meet it.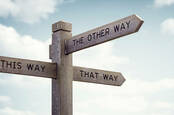 Whois? Whowas. So what's next for ICANN and its vast database of domain-name owners?
READ MORE
In addition to those financial issues, ICANN also received a staggering $355m in income for auctions of new extensions (most controversially $125m for .web). Despite priding itself on being a "multi-stakeholder" organization where the internet community decides what work is done and how, that huge money pot has seen ICANN's board persistently stymie efforts to decide what should be done with the money.
Most recently, the Board rejected a range of formal recommendations while at the same time asserting its right to spend the money how it wishes. Earlier this year it decided it was allowed to take $68m out of the fund in order to "replenish" its reserve fund.
It is worth noting that ICANN's Board of Directors voted to give themselves a pay rise to $45,000 a year, despite the official compensation report noting that Board members of non-profits typically go uncompensated. That report ended up comparing the $100m non-profit to billion-dollar for-profit companies in order to justify the $45,000 figure.
Brewster's millions
In addition to that over-inflated "compensation", ICANN also paid [PDF] Board members $1.15m in financial year 2017 for "reimbursements" – an average of $57,500 for each of the 20 Board members.
All of which is to say that ICANN has a huge amount of cash on hand that it has been spending unwisely and with little or no accountability. It decides what it wants to do, publishes a report saying so, and then votes to do exactly what it proposed several months later having run through the pretense of a public comment period.
The problem that ICANN faces with respect to GDPR and Whois is that it failed to run a process to decide what the impact would be before the new law kicked in.
It is now desperately trying to get that process moving forward but in the meantime, it has lost its authority over this critical service and contracted parties are openly refusing to follow its contract, claiming that the contractual wording is unlawful.
At the same time as mostly European registrars and registries ignore ICANN's legal department, the organization's US-dominated constituencies and even the US government, are insisting that under their interpretation of European law, ICANN is able to continue running pretty much the same version of Whois it always has.
Crying game
Having tried and failed to resolve disparities in views over Whois for 20 years and with no effective solution or process for doing so, ICANN has seemingly decided the best solution is for the European courts to decide for it what the correct legal interpretation is. That way, it doesn't have to resolve thorny internal conflicts itself.
And so, rather than invest in its own community and use its significant resources to develop new and more effective systems to reach policy solutions, ICANN has decided to simply spend as much money as necessary to push the issue to the top of the European legal system in the hope that the European Court of Justice will resolve the issue for it.
It's the kind of a solution that would only ever make sense to an organization with too much money, too little sense and and virtually no accountability. ®