Crowdfunding platform Indiegogo has revealed to The Register that it has set its lawyers on flailing ZX Spectrum reboot firm Retro Computers Ltd.
The platform confirmed to us that its corporate attorney has written to RCL seeking reimbursement from the company so that it can pay back RCL's customers, or "backers," as Indiegogo refers to people who use its website to place orders for production-ready items.
As regular readers know, RCL was the company that took £513,000 from the general public to put its ZX Spectrum Vega+ console into production. Just under 5,000 people paid money to RCL through Indiegogo for one or more of the £105 consoles, which in their originally advertised form had been designed by the late, great Rick Dickinson, designer of Sir Clive Sinclair's original ZX Spectrum.
Over the past two years RCL has consistently and repeatedly failed to deliver its product, raising questions about the viability of the crowdfunding business model and how it interacts with long-established consumer protections for the sale of goods.
Indiegogo could possibly experience some difficulty recovering the money on behalf of RCL's customers. The Register has seen a copy of RCL's bank statements, as filed at Luton County Court earlier this year, which showed a closing balance of £7,065.30 on 12 June last year, the latest date within the filed accounts. The funds were last topped up by a £16,000 VAT rebate from HMRC on 25 May 2017. It remains possible that the balance of the £513,000 is held in another account, or on the firm's Paypal account.
During the period 12 March 2016 to 12 June 2017 a total of £187,928 was paid by Indiegogo to RCL, according to the accounts seen by El Reg. On its accounting date of 30 March 2017 RCL said, in Companies House P&L filings, that it had capital and reserves of £433,008. Its account balance on that day was £1,210.31, as we previously revealed.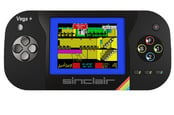 'Clive, help us,' say empty-handed ZX Spectrum reboot buyers
READ MORE
Customers of RCL have repeatedly asked the firm to at least post a picture of the Vega+, which it has insisted for years is on the point of being delivered. RCL has not done so.
The Register has asked RCL chairman David Levy to comment on the Indiegogo lawyer's letter and what the platform says is his non-response to it. We will update this article if we hear back from him.
A meeting of RCL's shareholders is due to take place this coming Monday (18 June). One of the motions on the agenda is the dismissal of David Levy, company MD Suzanne Martin and CTO Janko Mrsic-Flogel. The Register understands that the key vote in the meeting will be that of Sinclair Research Ltd (SRL), which is Sir Clive's corporate shareholding presence in RCL.
Though Sir Clive is not expected to attend the meeting in person, we understand that a voting representative of SRL will do so. If Sinclair votes to dismiss the current board, a new management team may take a different approach to the Vega+.
In the meantime a group of disgruntled RCL customers has set up a petition calling for RCL to refund them at clivehelpus.website. At the time of writing it has 323 signatories totaling £37,420.