This article is more than 1 year old
Jawbone bods allegedly jogged off to Fitbit with secret gadget blueprints
Staffers accused of swiping trade secrets face criminal charges
Six former and current Fitbit staffers have been accused of stealing trade secrets from rival gizmo-slinger Jawbone.
According to an indictment [PDF] filed Thursday in a Northern California US District Court, each of the six had at one time worked at Jawbone and were hired away by Fitbit. In the process, it is alleged, they took with them confidential R&D materials from Jawbone.
The indictment alleges that, between March 2014 and April 2015, the group of Katherine Mogal, Ana Rosario, Patrick Narron, Patricio Romano, Audrey Zhang, and Gee Weiden all resigned their positions at Jawbone after getting offers to come work at Fitbit.
In the process, it is alleged, each violated confidentiality agreements by taking with them copies of market studies, supplier and pricing lists, design specifications for new products, and internal financial presentations.
Among the lifted tech mentioned in court documents was Jawbone's designs for a set of headphones known as "Heisenberg". It is alleged that Narron and Romano handed Fitbit documents that contained product designs and hardware specifications for the unreleased headphone product.
Other lifted documents included detailed research profiles on Jawbone's customers base, and a set of forecasts for unit profits and losses.
Each of the six people indicted faces between one and six counts of possession of stolen trade secrets. In total, fourteen charges have been filed against the group.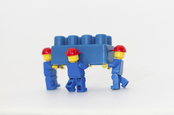 Brit data centre pioneer BladeRoom prevails in trade secrets theft case
READ MORE
Jawbone has been accusing Fitbit of trade secret theft since 2015, but last December the two sides decided to end years of legal wrangling by agreeing to a settlement on all litigation between their respective companies. Now six folks are facing criminal charges.
When asked about the indictment, a spokesperson for Fitbit noted that the company itself is not included in this action and was cleared of wrongdoing by the International Trade Commission in 2016.
"In a trade secret misappropriation case brought by Jawbone in the International Trade Commission in 2016 that involved these same individuals, a federal administrative law judge during a nine-day trial on the merits found that no Jawbone trade secrets were misappropriated or used in any Fitbit product, feature or technology," Fitbit's statement reads.
Jawbone shut down its wearables business in 2017 (the company name lives on as it hopes to re-launch as a medical device maker.)
Fitbit, meanwhile, has had its own troubles since its 2015 IPO. The company's stock, which once peaked at over $48, is currently trading at a price of $7.21. ®