Quobyte, FlashBlade and Caringo will all flower at JASMIN, the UK's environmental science supercomputer site, it has emerged.
The JASMIN super-data-cluster system is based at the Science and Technology Facilities Council's Rutherford Appleton Laboratory in Oxfordshire and managed by RAL Space's Centre for Environmental Data Analysis (CEDA). In 2017 it had 20PB usable capacity of mostly Panasas HPC storage, described as the largest single-site Panasas installation and Panasas realm.
A Phase 4 development involves upgrading its storage and its compute facilities.
According to a RAL site report (PDF) in a CERN update, JASMIN has added 30PB of usable capacity with a Quobyte software-defined scale-out parallel file system using Dell and Supermicro hardware.
Quobyte's Data Centre File System is said to unify file, block and object storage.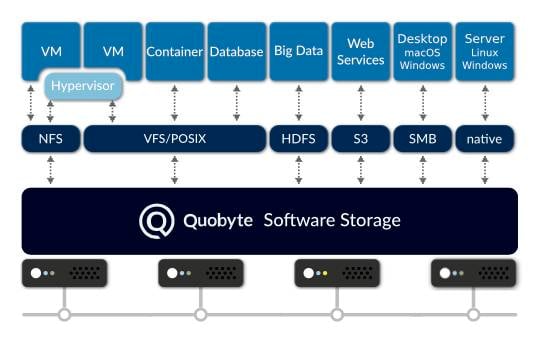 Quobyte's Data Centre File System
JASMIN said: "Some of the [group workspace storage] data will be migrated to the first generation of the new Scale-Out FileSystem (SOF) storage, which has different properties than the existing Panasas parallel file system which has provided the bulk of the existing JASMIN storage."
Some 5PB is interchangeable between file and S3-format object storage.
There is another 5PB of dedicated S3 object storage, with an NFS interface, from Caringo using Supermicro hardware.
JASMIN has also acquired 500TB of Pure Storage FlashBlade capacity with a NAS interface. It will be used for "home and scratch small file/compilation/metadata heavy workloads".
Around 5,000 Dell server compute cores have been bought for OpenStack (RHEL/KVM) use. The JASMIN4 CLOS network spine is using 8 x 32 x 100Gbit/s port Mellanox switches with Cumulus/BGP. A third layer has been added to the routed CLOS to connect JASMIN CLOS networks together at near-line rate. That means 16 x 32 x 100Gbit/s port Mellanox switches.
The STFC SCARF facility has added five new shelves of Panasas ActiveStor 20 parallel storage connected via Ethernet. It is migrating applications serving from a SPOF NFS server to a Quobyte 4-node cluster, possibly integrated into JASMIN. ®