Microsoft says Windows 10 April update is fit for business rollout
Claims it's the least complaint-generating Windows ever
Microsoft's decided that Windows 10 version 1803, aka the April Update, is now fit for consumption by business users or indeed anyone or anything capable of running Windows 10.
The company's declared the updated OS is now "fully available for all compatible devices running Windows 10 worldwide", including business PCs.
Have to use SMB 1.0? Windows 10 April 2018 Update says NO
READ MORE
Redmond's advice comes after over 250 million users installed the OS and gave it a thrashing. Those efforts produced data that Microsoft said shows a twenty per "reduction in system stability issues" and the same reduction "in operating system and driver stability issues."
The company also said "Our internal customer support teams are seeing a continued reduction in call and online support requests for Windows 10 with the April 2018 Update. Our OEMs also continue to experience reductions in monthly customer support volumes with this update.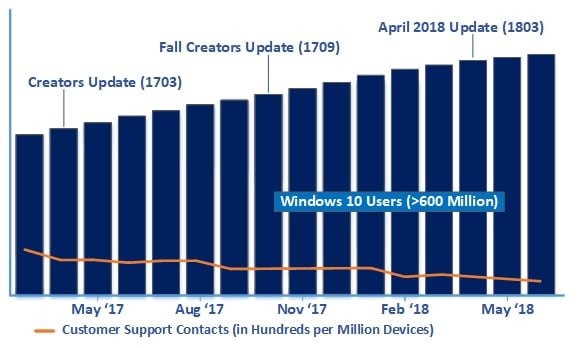 Microsoft's data on customer support volume Incidents in hundreds per million devices. Click to enlarge
Windows 10 1803 is therefore good to go for business users tuned in to Microsoft's Semi-Annual Channel, should you wish to adopt the update. And for the rest of us, 1803 will just appear in Windows Update if it hasn't already.
So brace for an update frenzy: Microsoft said Windows 10 is now "approaching 700 million monthly active devices" which leaves about 450 million now eligible for an upgrade. Do try to get them done at a convenient time, people, because the download is at least four gigabytes and Windows installs usually take at least 30 minutes and require multiple reboots! ®